About
54° North 5° West: Belfast, Northern Ireland. Putting Northern Ireland's talent on the art map.
Online and Pop-up Gallery
---
Gallery 545 is a unique online and pop-up gallery specialising in contemporary art of Northern Ireland and offering a special selection of affordable art works and fine art prints created by talented artists based here.
The gallery celebrates the creativity of emerging and more established artists across the region and supports their practice providing a curated platform where they can showcase and sell their works. Having an online presence, but also pop-up exhibitions, the gallery brings art to a wide range of people with different tastes and budgets who love contemporary art, and makes it easier for them to access, discover and collect art works.
Image: Gallery 545 Pop-up at the Sea Holly Gallery, Belfast
---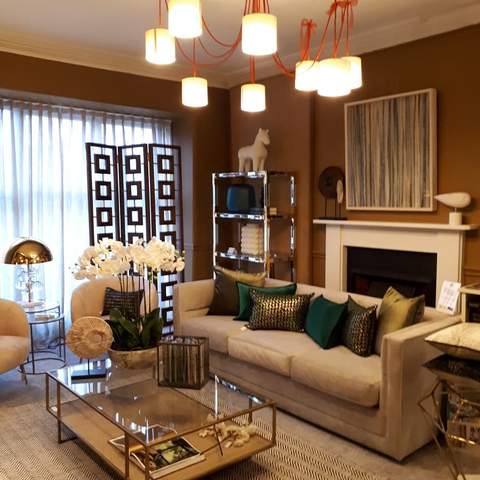 ---
Francesca Biondi, Art Director & Curator
---
Gallery 545 has been set up in 2018 by art consultant Francesca Biondi who is now responsible for its running and development. Originally from Tuscany in Italy, Francesca worked in the arts sector in London before moving to Belfast in 2000, where she started working for arts organisations and with artists in Northern Ireland. Biondi recognised the extraordinary talent of many artists based here and started collecting their art. Later she saw an online and pop-up gallery space as a great opportunity to help them to grow and promote their practice, and at the same time to reach many art lovers and art collectors looking for affordable art pieces to own and cherish. Her vision and her passion for fine art led her to set up Gallery 545.

More about Francesca Biondi
Francesca Biondi graduated in English Language and Literature in Italy, studied arts administration and management at Birkbeck College, University of London and completed a Master in Art History at the Open University.
She has been working as an art consultant since 2015, combining her extensive experience in management with her knowledge of and passion for visual arts to offer a range of services, from curating and managing exhibitions, to supporting artists' professional development, advising organisations on exhibition programmes and selecting art works for interior designers. Her collaborations included those with QSS Artists' Studios & Gallery, the Cathedral Quarter Arts Festival and Atelier Interior Design in Belfast.
In the past Francesca worked as a manager in the cultural sector in Northern Ireland for over ten years, among others she was a founding board member and co-director of Platform Arts, an important gallery and studio space in Belfast, and business development manager at Community Arts Partnership, a prominent arts organisation in Northern Ireland.