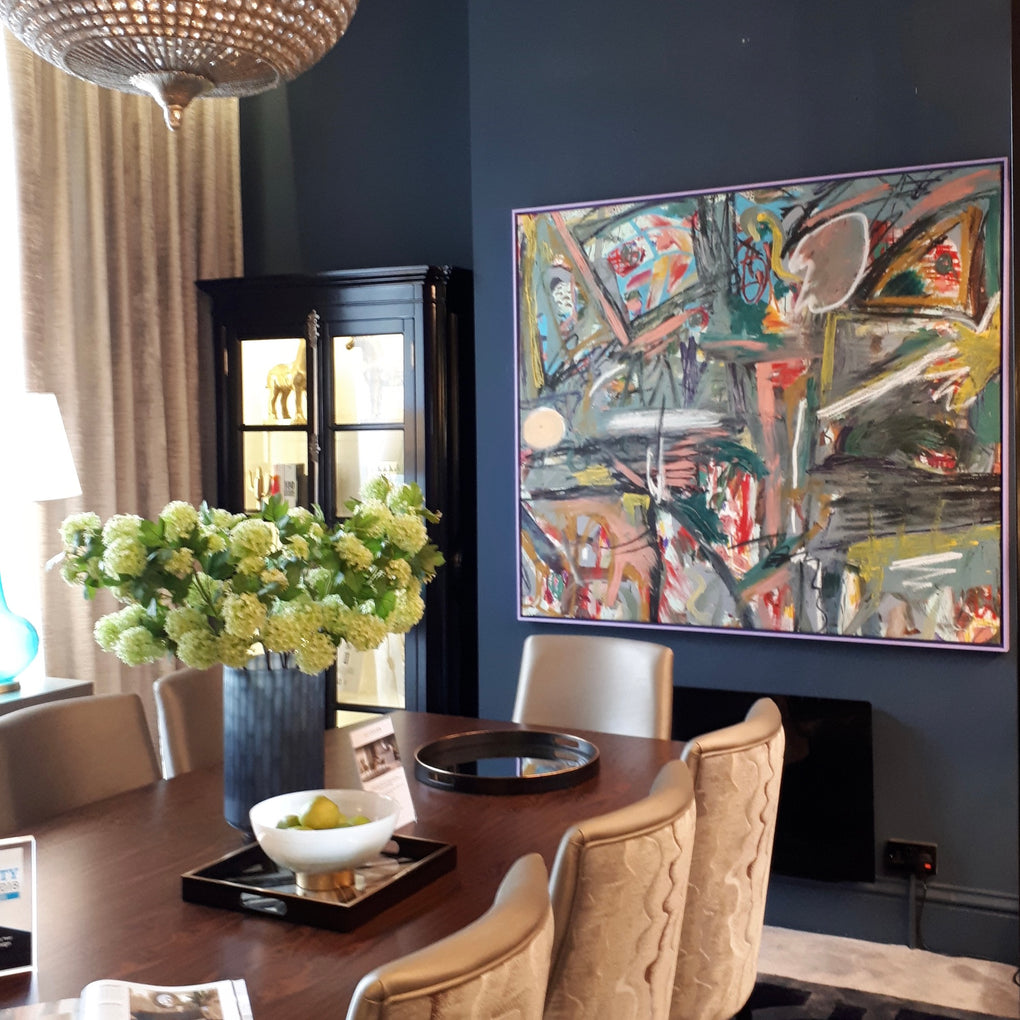 'Art & Interiors' (Art Collection)
24 October 2019 - 31 March 2020
Atelier Interior Design, Belfast
Atelier Interior Design, 7 Wellington Place, Belfast BT1 6GB
Open Tuesdays - Saturdays 10am-6pm
'Art & Interiors' is an art collection curated by art consultant Francesca Biondi for Atelier Interior Design's award-winning showroom. This collection brings original artworks in interiors and displays them as striking features to complement and enhance the showroom's spaces. All artworks are by Lisa Ballard, Ronan Bowes and Latisha Reihill, three exceptional artists based in Northern Ireland.
These artists are all very talented and versatile painters, who can create works of various scale and with a unique style, drawing upon different sources of inspiration. Ballard's evocative pieces feature landscapes and nature, often leaning towards abstraction, they capture the temporal and fleeting nature of her experience in a particular place. Bowes creates complex and bold abstract compositions inspired by personal experiences, feelings and emotions, and experimenting with the materiality of paint. Reihill produces bright and textured abstract paintings, influenced by buildings and natural landscapes, the memories they hold, and the changes of their colours and surfaces over time.
When artworks were hung in different rooms, consideration about their subjects and visual qualities were of paramount importance, in order to ensure that the art pieces could be seen, appreciated and become an important feature, whether a focal point or an essential element of a special corner. It was also of paramount importance to ensure that the artworks could be in harmony with the interior schemes, and significantly contribute to transform each room into a distinct space.
Images
Artwork in blog image: Ronan Bowes, The Grass Is Always Greener, 2016, oil on canvas, 161 x 142.5 x 3 cm
Other artworks on display:  (1) Latisha Reihill, Broken Waters, 2019, mixed media on canvas, 150 x 110 x 4 cm; (2) Lisa Ballard, Light on Trees, 2019, oil and spray paint on canvas, 91 x 61 cm.
(1) 
2
(2)