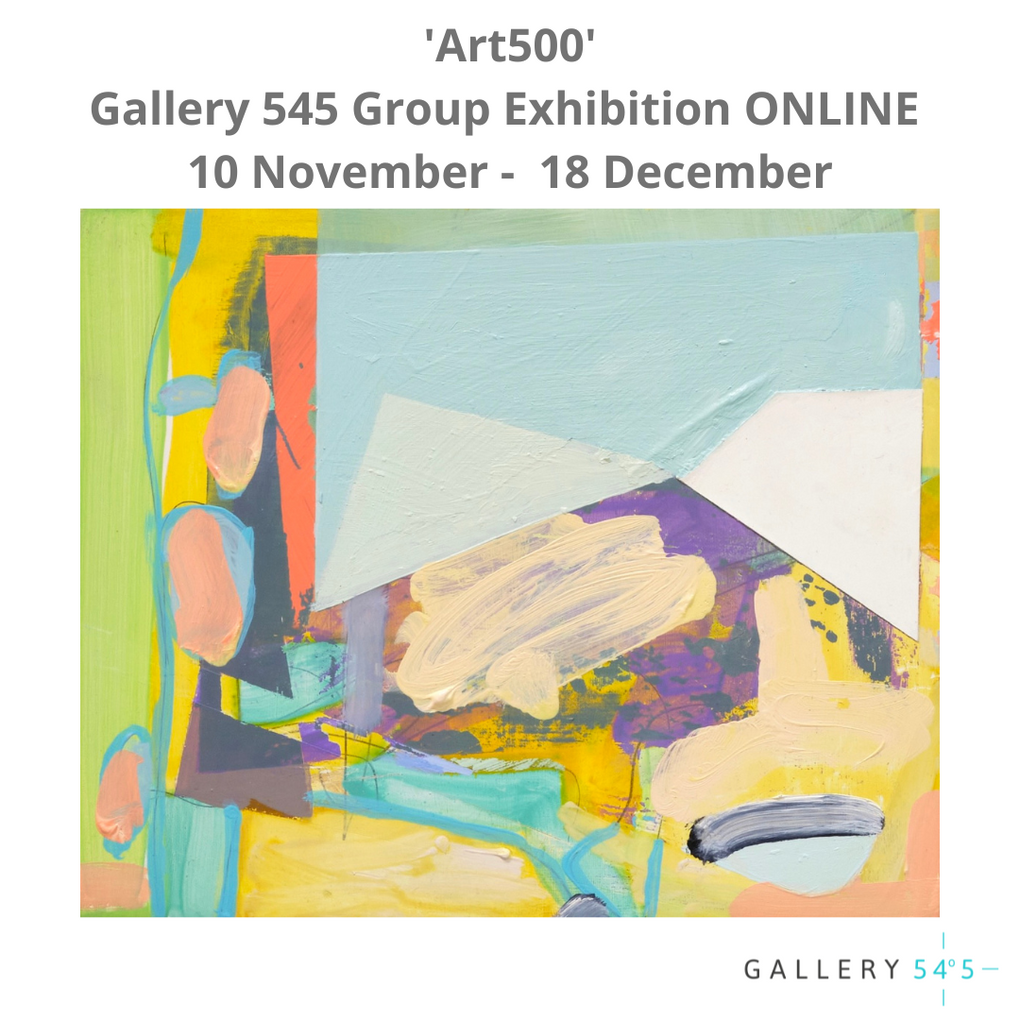 'Art500' - Gallery 545 Group Exhibition ONLINE
10 November 2022 - 18 December 2022
ONLINE at gallery545.com
ART ONLINE - The exhibition has now ended but some works are still available on the
artists' pages.
Gallery 545 presents 'Art500', a special online exhibition featuring a diverse selection of original artworks priced £500 or less created by accomplished artists based in Northern Ireland. This is a unique opportunity to discover inspiring art by local talents, find art you love at affordable prices or start your very own art collection.
The art selection encompasses a variety of artworks - from paintings, to works on paper, textile pieces and sculptures, with different subjects and distinctive styles. Among them playful abstracts, evocative landscapes, fascinating portraits, works inspired by the beauty of nature, and others telling stories.
All the exhibiting artists have encountered significant recognition for their artistic merits and are represented by Gallery 545. They are Lisa Ballard, Ronan Bowes, Craig Donald, Majella Clancy, Ray Duncan, Karl Hagan, Elham Hemmat, Ashley B. Holmes, Janet Keith, Patricia Kelly, Louise Lennon, Judith Logan, Alison Lowry, Sandra Maze, Rosie McGurran, Joel Simon, Katherine St. Angelo and Anushiya Sundaralingam.
With a collection of exciting and affordable artworks by these talented artists, 'Art500' brings art to art lovers with different tastes and budgets who are keen to enjoy and collect wonderful art…and at this time of the year they could also find their perfect Christmas gift!
All artworks can be viewed and purchased on Gallery 545's website. They are also available for private viewings and purchases in person at the gallery's office at Blick Studios, 51 Malone Road, Belfast (all but those by Elham Hemmat and Ronan Bowes). Come for a private viewing on Fridays any time between 10.30am-5.30pm or contact the gallery to arrange a viewing on another day / time, during normal opening hours (Mon-Fri 9.30am-5.30pm) or on late afternoons and Saturdays. Email hello@gallery545.com or call 07960 130414.
All artworks can be collected / delivered soon after the purchase (no need to wait until the end of the exhibition).
'Art500' is curated by Francesca Biondi, Art Director & Curator, Gallery 545. 
I am delighted to host 'Art500' at Gallery 545, a very special exhibition and initiative, which wants to showcase original art by many incredibly talented artists, inspire those interested in art and offer them beautiful art priced between £250 and £500…which could be a great Christmas gift for themselves or those they love. Francesca Biondi
Exhibition image: Majella Clancy, Shelter, 2021, oil and gesso on board, 20 x 16 x 2 cm.
ART SELECTION
Lisa Ballard,
Pink Leaves
, 2022, oil on canvas, 24 x 18 x 2 cm
Ray Duncan,
Untitled,
oil on canvas, 30 x 30 x 3 cm
Patricia Kelly,
Winter Note 6
, 2021, textile collage and machine stitch, 10.5 x 15.5 cm