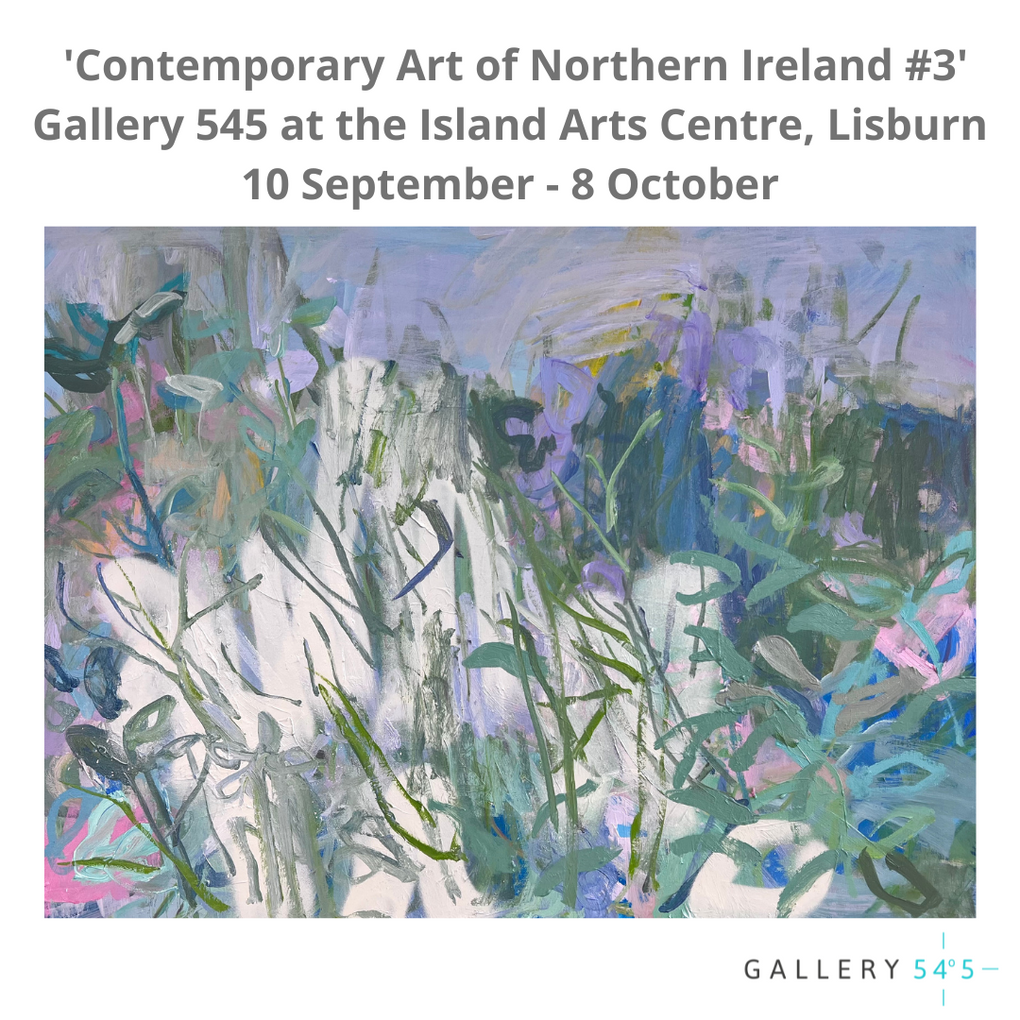 Gallery 545: Contemporary Art of Northern Ireland #3
10 September 2022 - 08 October 2022
Gallery 545 at the Island Arts Centre, Lisburn & ONLINE
ART ONLINE - The exhibition has now ended but some works are still available on the artists' pages.
 Gallery 545 at the Island Arts Centre, Lisburn 
The Island, Lisburn BT27 4RL 
Open daily during the week, Mon - Fri 9.30am-4.30pm (or later if events are running at the centre). Always open online at gallery545.com
EVENTS
TOURS with the curator Francesca Biondi - Saturday 17 September 2-2.30pm & Saturday 1 October 2-2.30pm
.
ARTIST TALK with Ashley Holmes (painter) - Thursday 29 September, 11am
ARTIST TALK with Eamonn Higgins (sculptor) - Friday 30 September, 11am
.
ASK THE CURATOR Francesca Biondi will provide information and answer your questions about the exhibition
Every week, Fridays and Saturdays, 11am-4.30pm
Gallery 545 is thrilled to work in collaboration with the Island Arts Centre and present their third major showcase of contemporary art of Northern Ireland, featuring over twenty emerging and established artists based here and an exciting and wide selection of unique works encompassing paintings, sculptures, works on paper and textile pieces.
This special exhibition celebrates accomplished artists who have achieved recognition locally and internationally. It highlights the originality and diversity of their practice displaying a collection of artworks created employing different mediums, exploring a variety of themes, and using distinctive styles.  Among these are vibrant abstract paintings, evocative landscapes, beautiful works inspired by nature, fascinating painted or sculpted figures, and captivating textile and glass pieces.
The show is hosted in the two spacious galleries of the Island Arts Centre, and online at Gallery 545. Visitors will be offered a rare art experience, allowing them to view and discover many original artworks by exceptional artists of Northern Ireland and appreciate the wealth of talent in the region.
Featuring artists represented by Gallery 545: Lisa Ballard, Ronan Bowes, Craig Donald, Majella Clancy, Ray Duncan, Karl Hagan, Eamonn Higgins, Ashely B. Holmes, Janet Keith, Patricia Kelly, Louise Lennon, Judith Logan, Alison Lowry, Sandra Maze, Noel Murphy, Rosie McGurran, Tracey McVerry, Charlie Scott, Joel Simon, Katherine St. Angelo, Anushiya Sundaralingam and Jennifer Trouton.
This exhibition is curated by Francesca Biondi, Art Director, Gallery 545. An exhibition tour with the curator and talks with the artists will take place during its running.
All the artworks are available to view and purchase in person at the Island Arts Centre or online at https://gallery545.com. For enquiries speak to the staff at the centre or contact Francesca on 07960 130414 or at hello@gallery545.com.
Access to the exhibition is via the Island Arts Centre's entrance, or if this is closed through the Civic Centre's main entrance.
I am excited to host again a major showcase of contemporary art of Northern Ireland. With this diverse large-scale exhibition, both Gallery 545 and the Island Arts Centre renew their commitment to support and promote talented local artists and bring wonderful art to art lovers. Francesca Biondi, Art Director & Curator, Gallery 545.
Gallery 545 - Gallery 545 is an online and pop-up gallery specialising in and celebrating contemporary art of Northern Ireland and offering a special selection of affordable artworks created by talented artists based here. 
Island Arts Centre - Opened in June 2001, the Island Arts Centre has earned an excellent reputation as one of Ireland's major leading multi-arts venues. https://islandartscentre.com.
Image: Lisa Ballard, Beach Flowers Donegal, 2022, oil and spray paint on canvas, 46 x 61 cm
COMMENTS
'What a wonderful exhibition - many works to delight the eye and lift the heart! Joan Bloomer, Northern Ireland Collector for the National Irish Visual Arts Library
'A beautifully curated selection! Well done Francesca et al.' Amanda Croft, Art Historian, ArtTalks: ArtWalks
'This is another beautiful and thought-provoking collection of work, Francesca. I thoroughly enjoyed it! Thank you!' Joanna Mules, artist and former Vice-President of the Royal Ulster Academy
'Absolutely stunning collection of artworks! Adore the lovely colours.' JK
'Fabulous display of stunning artworks. Great inspiration for a novice like myself.' AM
'Wonderful exhibition, telling stories and challenging thoughts.' JF
 A FEW PICS
AMONG THE ARTWORKS ON DISPLAY
Rosie McGurran, Conversations on the Pier, 2022, watercolour and other media on paper, 84 x 59.5 cm
 .
Janet Keith, Sands of Time, 2021, acrylic on board, 38 x 25 cm
.
Eamonn Higgins, Elaborate, 2021, bronze, 15 x 48 x 12 (depth) cm
Patricia Kelly, Red Square with Rectangles, 2022, textile collage and machine stitch, 20 x 20 cm