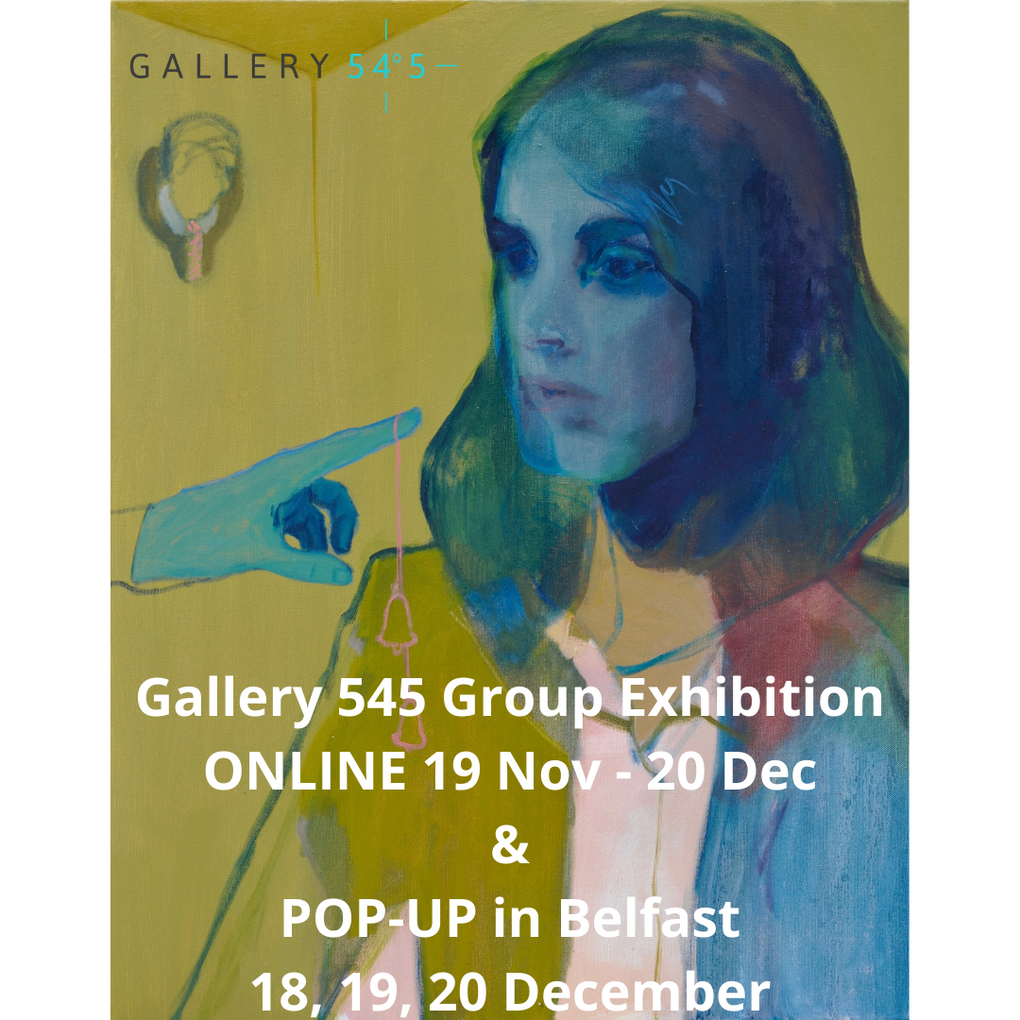 Gallery 545 Group Exhibition
19 November 2020 - 20 December 2020
ONLINE & at Gallery 545, Belfast
ONLINE - always open
Gallery 545 at Blick Studios, 51 Malone Road, Belfast - Open on Fri 18, Sat 19 and Sun 20 December, 10.30am-5.30pm
Gallery 545 presents a group of emerging and more established artists based in Northern Ireland who have achieved recognition locally and internationally. This exhibition celebrates their originality and talent showcasing a curated selection of diverse artworks. The selection encompasses atmospheric pieces inspired by landscapes, vibrant abstract paintings, fascinating portraits and exquisite works on paper. Viewers will have the opportunity to appreciate and discover recent artworks by several accomplished artists living and working in the region.
Featuring artists represented by Gallery 545: Lisa Ballard, Ronan Bowes, Alacoque Davey, Ray Duncan, Craig Donald, Wendy Ferguson, Karl Hagan, Elham Hemmat, Trina Hobson, Ashely B Holmes, Janet Keith, Rachel Lawell, Aimee Melaugh, Rosie McGurran, Kevin Miller, Noel Murphy, Latisha Reihill, Katharine St Angelo, Charlie Scott and Anushiya Sundaralingam.
Artworks can be viewed and purchased online at gallery545.com (free delivery  to UK and Ireland, free returns in Northern Ireland). They are also available for private viewings by appointment at Gallery 545's office in Belfast. (subject to government regulations with Covid-19).
3-day pop-up at Blick Studios, Belfast. Almost all of the artworks will now on display as a special 3-day pop-up at the gallery's premises on 18, 19, 20 Dec. 
Visiting the exhibition No booking is required. This show is open to the general public. The safety of our staff, visitors and artists is our paramount concern. We have specific safety measures in place because of Covid-19. The number of people allowed at the same time in the exhibition space is limited to 6. When visiting the exhibition, please wear a face mask /covering, adhere to social distancing guidelines, and leave your contact details for tracing purposes. Any updates about Covid-19 measures will be published on the exhibition page on our website. Unfortunately, there is no disabled access to this venue.
For more information and enquiries, contact the gallery at hello@gallery545.com or on +44 7960 130414.
Gallery 545 Group Exhibition is curated by Francesca Biondi, Art Director at Gallery 545. I am delighted to feature and promote several artists based in Northern Ireland with this exhibition. There are so many talented artists here who create great art. This year has been particularly difficult for them. I therefore believe that it is important, now more than ever, to support them. Francesca Biondi
Image: Trina Hobson, Enjambment, 2020, oil on canvas, 60 x 76 cm