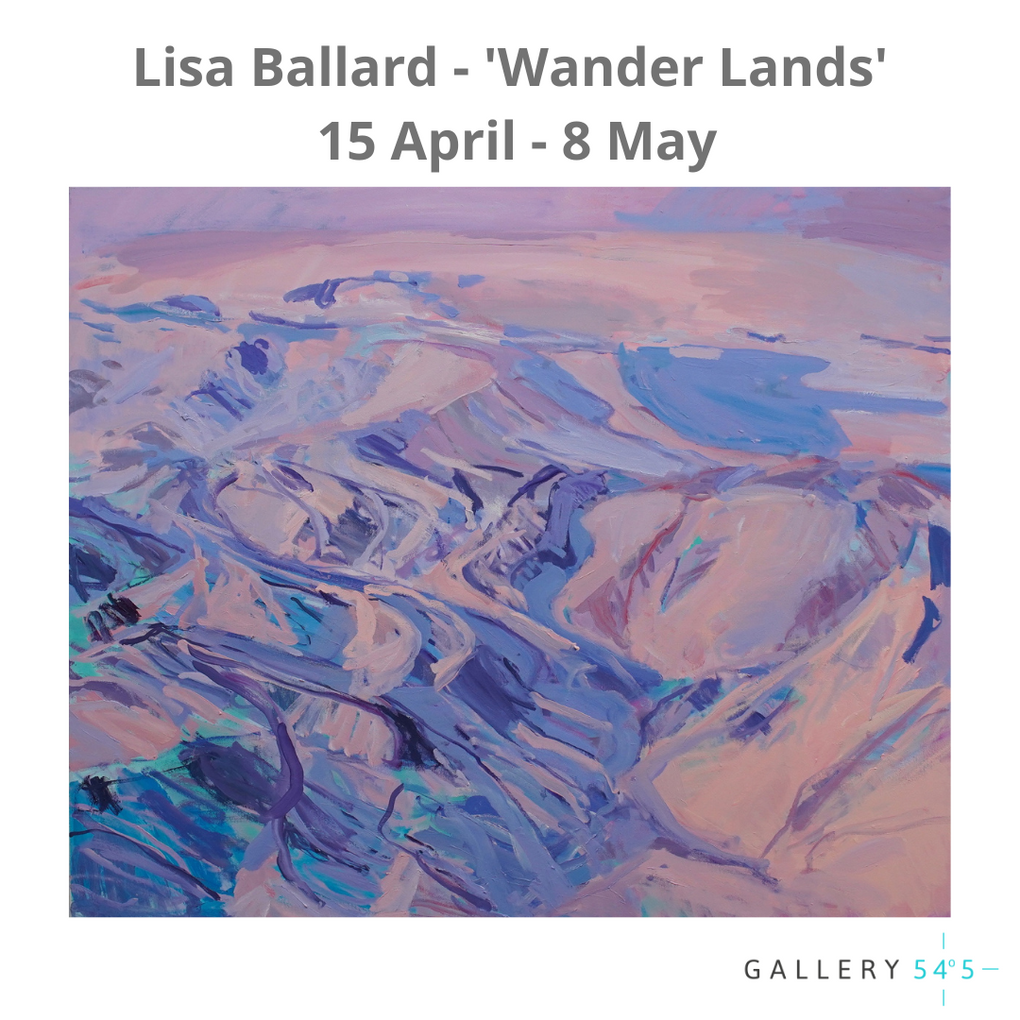 Lisa Ballard - 'Wander Lands' Solo Exhibition
15 April 2021 - 08 May 2021
ONLINE & at Gallery 545, Belfast
This exhibition ended, but you can still
Online – always open
Virtual private viewings on request
Open at Gallery 545 at Blick Studios, 51 Malone Road, Belfast BT9 6RY on Thursdays, Fridays and Saturdays from 30 April
(30 April, 1, 6, 7,8 May, no booking required)
This solo exhibition features award-winning artist Lisa Ballard. It presents her recent body of work, a series of atmospheric paintings inspired by landscapes she encountered in Ireland and around the world and her emotional response to them.
Ballard depicted enthralling distant or closer views of beautiful natural scenes. Leaning towards abstraction, but holding on to figurative elements, the paintings are a journey taking the viewer to towering mountains, majestic glaciers, rocky deserts, trees on hills and along sea coasts. While recollecting memories of countries she visited, the artist was drawn to the temporal in the landscape, and she captured in her works her experience – visual and emotional, of being in that moment and place. Ballard used the landscape to explore her fascination with colour and light. She intuitively played with brighter and more subdued hues, and applied washes, oil and spray paint to recreate the colours observed under the light of a particular time of the day or season. She also evoked the feelings arisen in her by the landscapes and their atmospheres – a sense of peace and calmness or animated liveliness.
The paintings were created through and reflect this artistic process – a series of diverse evocative semi-figurative natural scenes, all with a unique colour palette and light, suggesting joyful or serene moods, but also expressing the pleasure of the act of painting.
'Wander Lands' is curated by Francesca Biondi, Art Director at Gallery 545 in collaboration with Lisa Ballard.
Artworks can be viewed and purchased online, at virtual private viewings or in person at Gallery 545.
Virtual private viewings from 15th April are via video calls (WhatsApp) and take place during the exhibition opening times on Thursdays, Fridays and Saturdays between 10.30am and 5.30pm (alternative times can be arranged).
Visiting the exhibition in person from 30th April when restrictions are eased. We would be delighted to welcome you at Gallery 545! No booking required.
There will be measures in place because of Covid-19 to keep visitors safe. The number of people allowed at the same time in the exhibition space is limited to 6. When visiting the exhibition, please wear a face mask /covering, adhere to social distancing guidelines, and leave your contact details for tracing purposes. Any updates about Covid-19 measures will be published on this page. Unfortunately, there is no disabled access to this venue.
For enquiries and private viewings contact Francesca hello@gallery545.com / +44 7960 130414.
Image: Lisa Ballard, Pink Icelandic Glacier, 2021, oil and spray paint on canvas, 120 x 100 cm. 
VIDEOS FOR YOU
Listen to Lisa Ballard talking about 'Wander Lands' (c. 4 mins) - how she went back in time to the happy memories of her travels and transformed them into wonderful works using her own unique artistic style and techniques. She tells us why she paints too. With special pet guest Bodhi. Video by Peter Adam.
Take a short video walk through 'Wander Lands' at Gallery 545, Belfast. Video by Peter Adam. 
About the artist - Lisa Ballard lives and works in Belfast. She is an Associate Member of the Royal Ulster Academy, has exhibited extensively in Ireland and further afield and has won awards for her artistic achievements. Her paintings have been purchased for numerous private and public collections including those of the Arts Council of Northern Ireland and Ireland's State Collection. Visit the Lisa Ballard's page for more info and artworks.