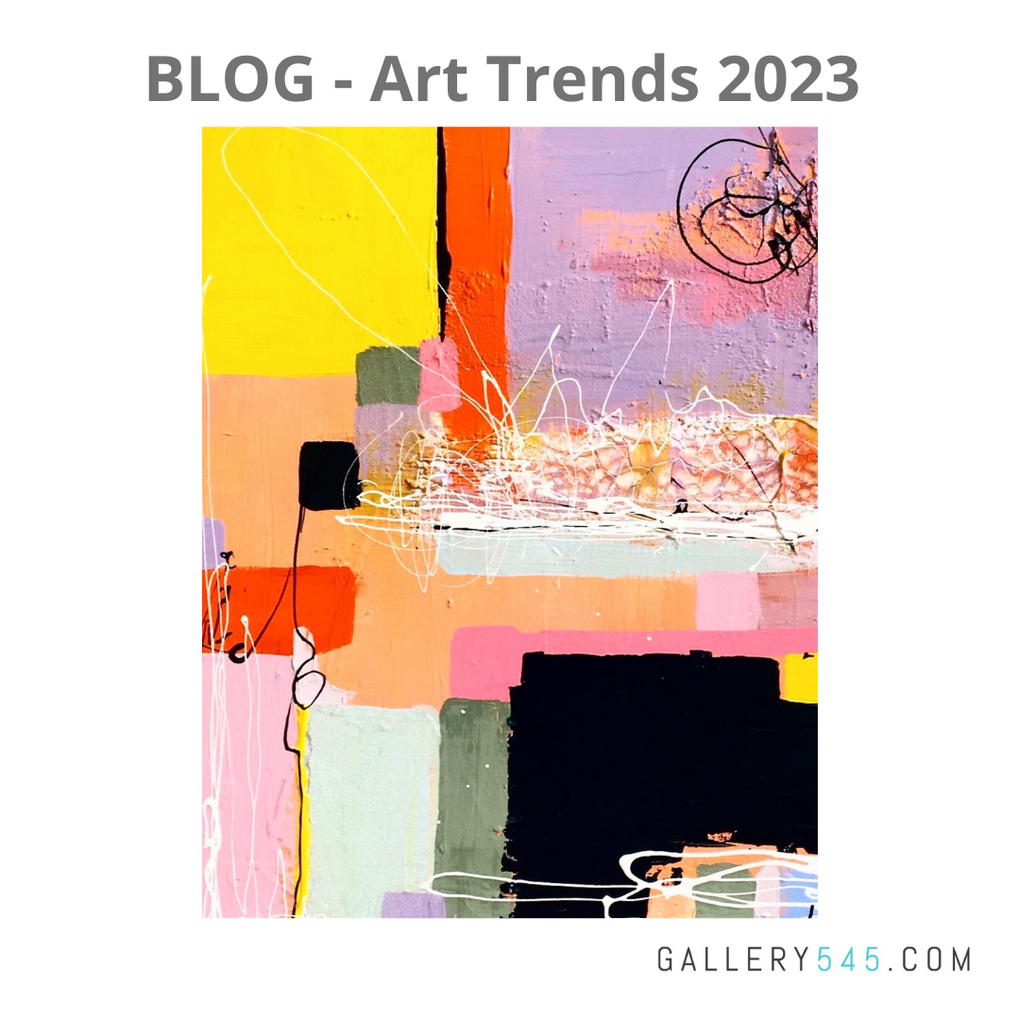 Art Trends 2023
Find out what art is trending in 2023 and get inspired! We always keep our finger on the pulse to find out what is creating excitement and attracting interest in the art world. With this blog, we are revealing it to you!
We researched art trends in contemporary art and the art market identified by leading global galleries and art fairs – Saatchi, Artsy and the Affordable Art Fair among others. We also looked for new trends ourselves visiting major international exhibitions of contemporary art, including the Venice Biennale. Here are five dominant and inspiring art trends we discovered.
Art, politics & society – Artists are looking at socio-political issues, past and present, and they are addressing them through artworks with social and political messages. 'Activism art' is in demand among collectors as it allows you to display your opinions and beliefs and support causes you care about.
Nuclear weapons as threats to our society - Karl Hagan, Nevada, oil on linen, 30 x 40 x 2 cm 
Questioning the economy of overseas manufacture and import – Spencer Glover,
Made in China 14
, photography on Hahnemühle fine art paper, 86 x 66 cm (limited edition)
Bold and bright – Bold and bright colours are a significant trend in art and interiors, with Viva Magenta, a nuanced crimson red, being Pantone's colour of the year. Artworks with bright and expressive hues are sought after as they can brighten up and energise your space and uplift your mind and mood.
 Vibrant abstract - Janet Keith, Glade Pink, acrylic on board, painting, 38 x 51 cm (55.5 x 68 cm framed and ready to hang) 
Hot abstract - Ronan Bowes, Burn, oil and oil bar on Arches paper, 56 x 76 cm
Natural colours and materials – Natural and more subdued colours will always be in fashion. Natural and even repurposed materials are popular too, as more and more artists are employing eco-friendly approaches to create art. Look for artworks with earthy or neutral tones or natural materials to create a soothing and calming effect.
Restorative nature: flax buds in all shades of green - Anushiya Sundaralingam, Mottukal II (Buds), oil on cotton, 95 x 95 x 2.5 cm
A serene and peaceful landscape - Katherine St Angelo, Golden Beginnings, acrylic on paper, 41 x 44 cm (55 x 58 x 2.5 cm framed and ready to hang) 
The timeless and the 'rediscovered' – Sculptures and paintings are timeless art forms, favoured both by artists and collectors. Other forms are being 'rediscovered' with ceramics and textile art gaining more and more attention. Artists can adopt a more traditional approach to them all or push the boundaries of mediums and genre divisions with innovative results.
Pushing the boundaries of figurative sculpture – Eamonn Higgins, Once It Mattered, bronze sculpture, 10 x 40 x 8 cm
Abstract textile art bringing together fine art and craft -  Patricia Kelly, Red Fragment, textile collage and machine embroidery, 64 x 90 cm 
Art & technology – As technology evolves and creativity takes new forms, digital art and NFTs continue to innovate and intrigue. We intend to introduce artists working with digital technologies later this year.
You can explore these art trends in our art collections! Go to the artworks page and use filters to find art with socio political themes, bright and earthy colours, or different art forms. Or click on some popular filters here.
Paintings     Sculptures      Textile Art
Blog image: Latisha Reihill, Rewrite, acrylic paint and other media on canvas, 40 x 50 x 3 cm