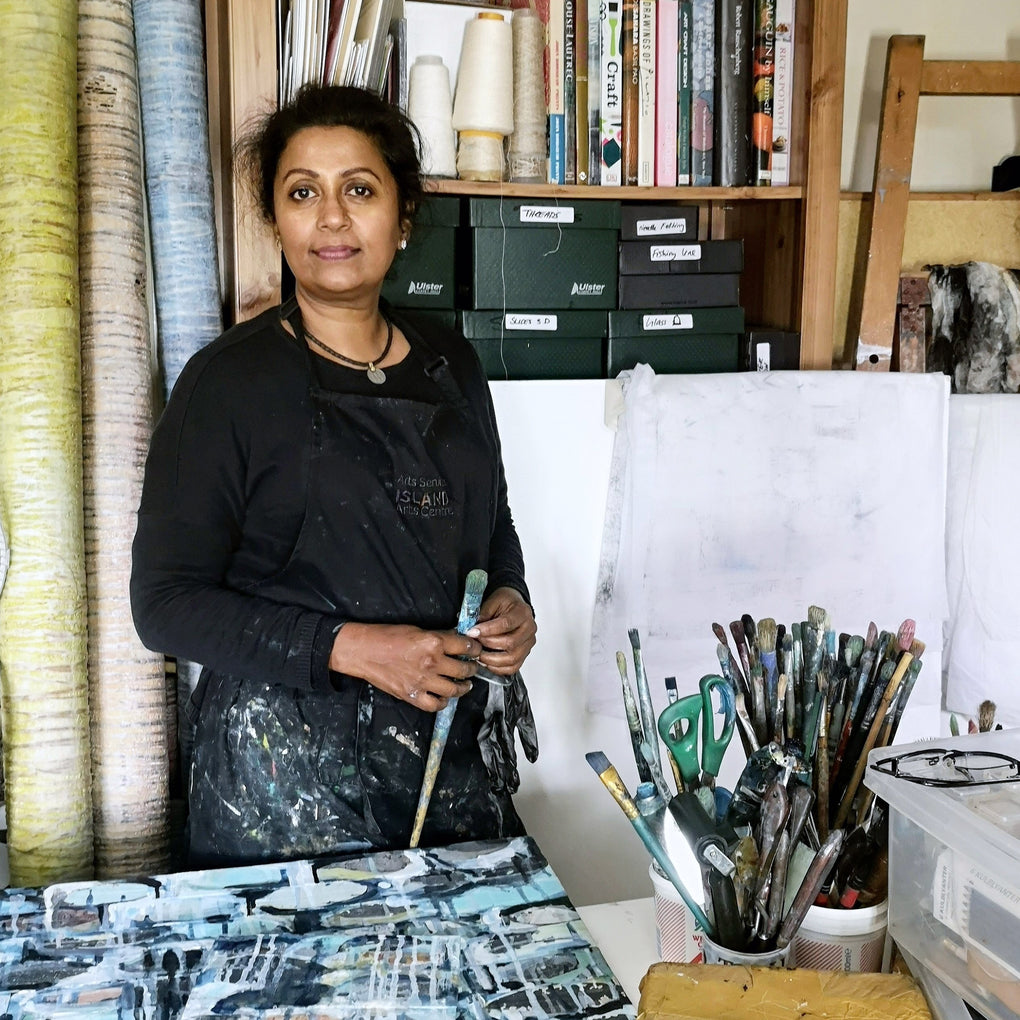 Focus on Anushiya Sundaralingam - Interview
Curator Francesca Biondi interviews the artist about her work and her solo exhibition 'Iyarkai' (Nature)
Anushiya Sundaralingam is an award-winning artist who can create a remarkable variety of artworks, from works on paper, to collages, paintings, sculptures, textile and mixed media pieces. She uses a range of materials and techniques to reflect the intricate and layered aspects of identity, culture, place and nature, the themes she often focuses on.
Can you introduce yourself and your practice?
I was born in Jaffna, Sri Lanka and I now live in Belfast. I graduated in Fine and Applied Arts from the University of Ulster in the late 1990s, and I have been an artist and arts facilitator since then. I work from Belfast Print Workshop where I can experiment with different printing techniques. I have a small studio at home and a space at Queen Street Studios, where I can employ other techniques and materials such as painting, drawing, textile and mixed media. My art has encountered recognition here in Northern Ireland as well as internationally. I am an associate member of the Royal Ulster Academy, and my pieces are held in several public collections including those of the Arts Council of Northern Ireland and Queen's University, Belfast. I have exhibited here, as well as at many galleries and arts organisations abroad.
Remembrance, works with gold leaf on Somerset paper in a wooden box frame, 44 x 44 x 13 cm (detail). Artwork in the Arts Council of Northern Ireland's collection.
What are the major themes you explore in your work?
The themes that I tend to concentrate on are nature, culture, conflict, life, identity. They have influenced me throughout my artistic practice. Subject matter choices can change from time to time.  I mostly work in series and there is always a connection or recurring motif in each of them. In my work I am interested in looking at and reflecting upon my relationship with the space in which I find myself, how my natural and cultural environment shape my sense of self and place.  When my surroundings change, through displacement, whether by choice or not, I respond and adapt. This relates to my memories and experiences of growing up in Sri Lanka, and later moving to England at the age of 22 before settling in Northern Ireland. My work continues to be influenced by my past and my present. The passing of time and its various implications have always strongly inspired it.
Forest, 2015, bamboo, threads, encaustic, oil, various widths, height: 265 cm. Similar works will soon be available from Gallery 545.
You explore these recurring themes employing many different media. Can you tell us more about the materials and techniques you utilise and the works you create with them?
I employ a range of media to reflect the intricate and layered aspects of identity, culture, place, life and nature. I am a mixed media artist. I experiment with materials, approaches and subject matter. During my studies I was introduced to printmaking, and it became my main medium of choice. Over the years I have used other media. I create both two dimensional and three-dimensional works, and I am particularly interested in colour and texture. In 2D I tend to create one-off print-based works on paper rather than editions. In 3D creations I also explore movement, including kinetic installations, sculptures and textile pieces. Depending on the work I choose different media, this can range from paint to textile, encaustic to metal and more.   The techniques I utilise include printing, drawing, painting, sculpting, sewing and collaging.  These media and techniques are interchangeable across both two and three dimensions.  For instance, sculptural and installation-based works may include print, paint and drawing, while paper works may incorporate many built-up layers of media.
Neram 3 (Time), 2020, oil unique monotypes on archival paper collaged on mount board, 43 x 50 cm (56 x 69 cm framed)
Your most recent body of work is now featured in the online exhibition 'Iyarkai' (Nature). Why was nature an important source of inspiration? What else inspired your work?
In recent years my work and related exhibitions have obvious connections to environment and nature. As I mentioned earlier, I look at how natural and cultural environments shape my sense of self and place. I have always collected and worked with natural materials such as bark, coir, skins, leaves and roots. Moreover, since a young age I have collected fascinating organic findings, and throughout my life I also kept foliage I associate with important memories.
At the beginning of this year, I had already planned to create a new series of pieces inspired by nature, but it was during the lockdown that I started exploring this theme in new directions. During this time, I cleared my small studio at home, and I was excited to find some of my gathered collections. These triggered considerations on the significance of roots and where we find ourselves, and the mirroring of natural and life cycles. Leaves and foliage from the past and the present have been reworked and re-imagined in my new pieces to tell a story of our life cycle.
As artist studios were closed during lockdown, I had limited materials and reduced space. This challenge pushed me to come up with new ways of working which I enjoyed. The unique series of oils on paper has been created by the building up of layers through colour and texture, and using print, collage, paint and stitching in order to express the multi–dimensional aspects of nature and life.
Nerattil 1 (In Time), 2020, unique oil monotypes on archival paper stitched together, 42 x 49 cm
Is there any particular project you are going to work on next?
I intend to create a new body of work and collaborate with curators and arts organisations both in Sri Lanka and Northern Ireland to exhibit it in both countries. This brings the exciting potential to make my first return to my place of birth in twenty-five years, but with Covid-19 plans are somewhat on hold.