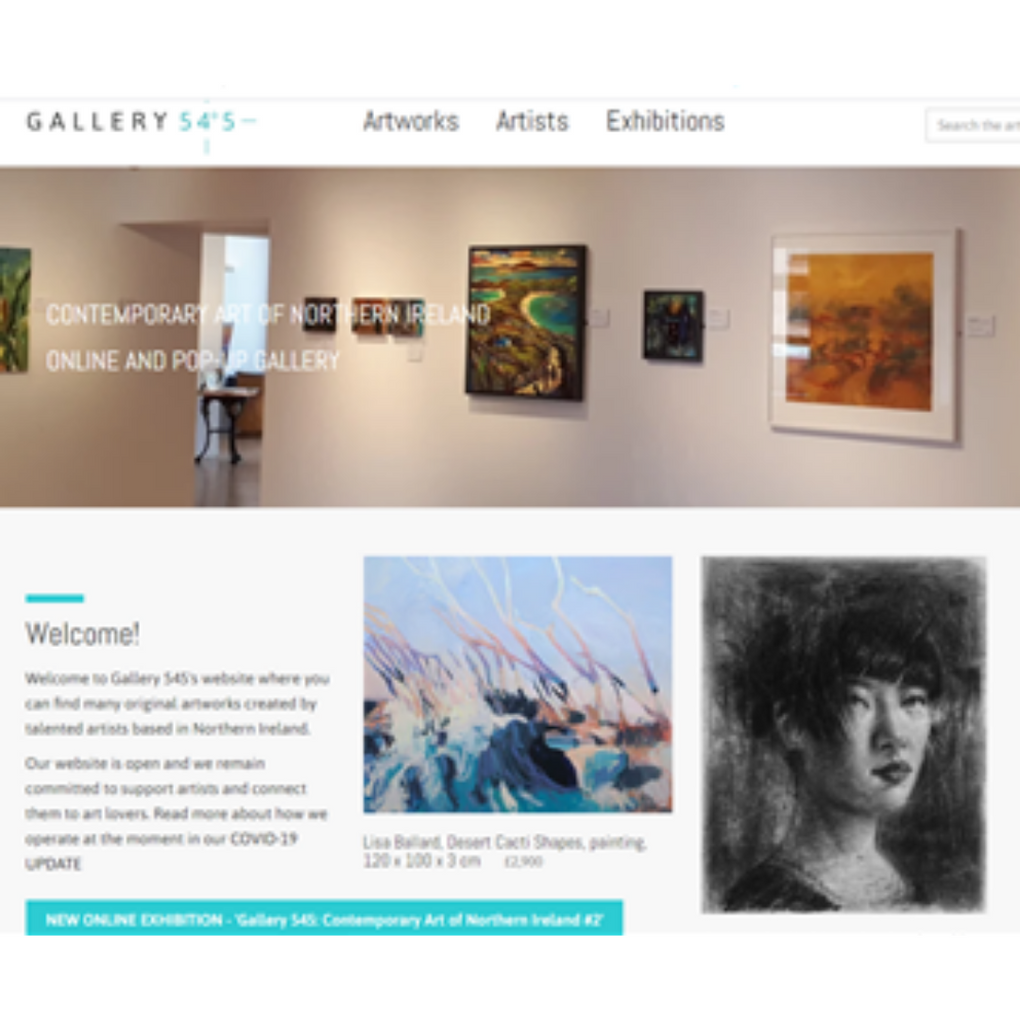 Gallery 545 Goes 100% Digital
All exhibitions, artworks and artists are now online
In these uncertain times, we don't have much control over our current circumstances. Instead of letting this hardship defeat us, we change, grow and adapt to keep our business open. Gallery 545 is making the most of its digital platforms to respond to the negative impact of Covid-19 on the art world. As galleries, art fairs, arts venues, shops and studios are closed, online platforms have become a fundamental means to showcase art. We are therefore using our e-commerce website, blogs and social media to show online exhibitions, present additional selections of art works, introduce more artists and bring you news about art. In this way, we can continue to serve our customers, support artists and connect them to art lovers.
New online group exhibition
We are thrilled to host 'Gallery 545: Contemporary Art of Northern Ireland #2' online between 3 and 31 May. This is our annual major exhibition featuring over twenty incredibly talented artists based in Northern Ireland and represented by Gallery 545. This show was scheduled to run at the Sea Holly in Belfast, but as this gallery is now temporarily closed, we are making it happen on our website, and having highlights on social media as well. You can view it here!
The exhibition celebrates the incredibly talented artists we work with and the wealth of talent in Northern Ireland presenting a large and varied selection of exciting artworks. These encompass paintings inspired by landscapes and cityscapes encountered here and around the world, intriguing pieces recalling stories and histories, fascinating portraits, nature inspired editions and ceramic sculptures influenced by Neolithic and tribal art. Abstract artworks also feature largely, from colourful gestural abstract paintings, to geometrical abstracts on paper and fabrics, and innovative acrylic objects.
We are proud and privileged to give you the stunning artworks by the following accomplished exhibiting artists: Lisa Ballard, Natalia Black, Ronan Bowes, Alacoque Davey, Craig Donald, Ray Duncan, Dan Ferguson, Wendy Ferguson, Karl Hagan, Trina Hobson, Ashely B. Holmes, Janet Keith, Rachel Lawell, Aimee Melaugh, Rosie McGurran, Noel Murphy, Grace McMurray, Kevin Miller, Latisha Reihill, Charlie Scott, Katherine St. Angelo and Anushiya Sundaralingam.
All the artworks can be easily viewed and purchased from www.gallery545.com, and be delivered to your door with a safe delivery service. As many of our customers and followers are from Northern Ireland, Ireland and UK we'll have special offers on deliveries as a token of our appreciation. This service will soon be free in Northern Ireland and free in the UK and Ireland on orders over £500. Most of the income from sales will go to the artists, to support them during these challenging times.
New artists
Among the exhibiting artists are four who have recently joined Gallery 545. We are delighted to welcome Ray Duncan, Janet Keith, Elham Hemmat and Katherine St. Angelo! We are always looking for exceptional artists to represent, working in different mediums, and at different stages of their career with a focus on those emerging too. Painters Keith and St. Angelo and multidisciplinary artist Hemmat are all on the rise, while Duncan, also a painter, is a very well-known figure on the local art scene. We have added their beautiful pieces to our art collections, which now include Keith's intuitive gestural abstracts, St. Angelo's atmospheric semi-figurative landscapes, Duncan's controlled geometric compositions, and Hemmat's singular human figures in ceramic. Visit their pages to view them! You can find them on our social media too!
For more information on our ongoing business during the Covid-19 pandemic, simply visit our home page. We are planning other online initiatives coming up soon, including other exhibitions and features about artists. So keep following us to discover more about art and artists in Northern Ireland. Do not hesitate to contact us via email or on social media, we will be happy to help with any queries or questions you may have.
Happy online art browsing!