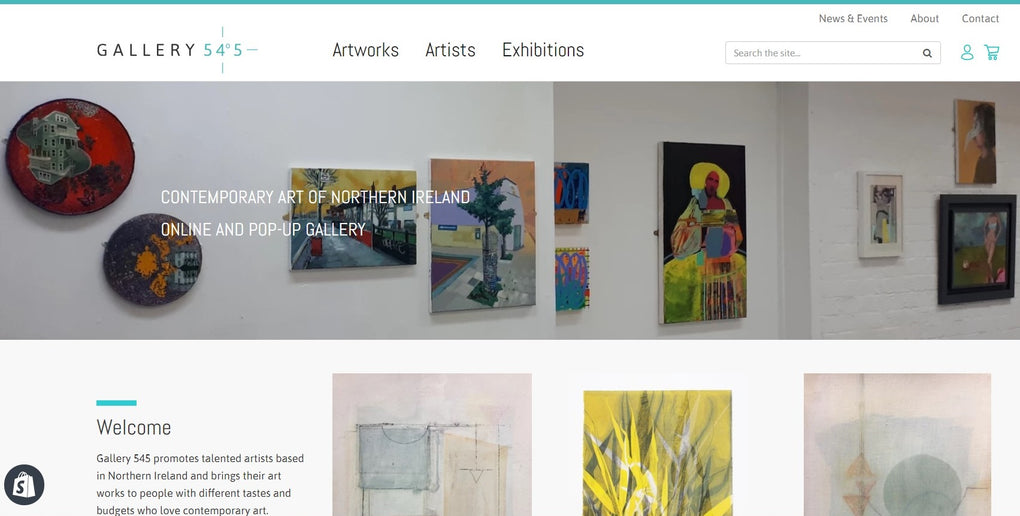 Gallery 545's Has a Brand New Website!
Welcome to our brand new Gallery 545's website! 
There has been a lot of change happening at Gallery 545 as we have been working incredibly hard with Glaze Digital to develop and introduce you to our brand new website. 
 We want our website to act as a first-class online gallery, informing our customers and other art lovers about our online art collections alongside our pop-up exhibitions throughout the year. Specialising in contemporary art from Northern Ireland, we want our website to become an art hub, supporting artists based in this region and connecting them with collectors from here and beyond. We've ensured that the site has the functionality needed to find out more about the incredibly talented artists we work with and their amazing art works.  A priority for us is to ensure that our new site is as user friendly as possible to make browsing and purchasing art works an enjoyable experience.
 At Gallery 545, we are passionate about showcasing emerging and more established artists and finding and bringing to you a special selection of affordable and diverse original art on our very own purpose-built website. We will be updating our blog on a regular basis with all the latest news about our artists and artworks, the tips and tricks you'll need to find the perfect art piece for you, and our expertise within the industry - all at Gallery 545. 
 We will also be keeping you up to date on our forthcoming and current pop-up exhibitions, offering you an insight into what is happening in the art world in Northern Ireland and giving you the chance to see our artists' recent artworks for yourself. Our new website also gives you the opportunity to request your very own private viewing of a selection of art works at our office in Belfast City Centre.
 We hope you enjoy our new website as much as we do.
 If you would like to send us your feedback about our new site or have any enquiries, you can contact Gallery 545 at hello@gallery545.com.