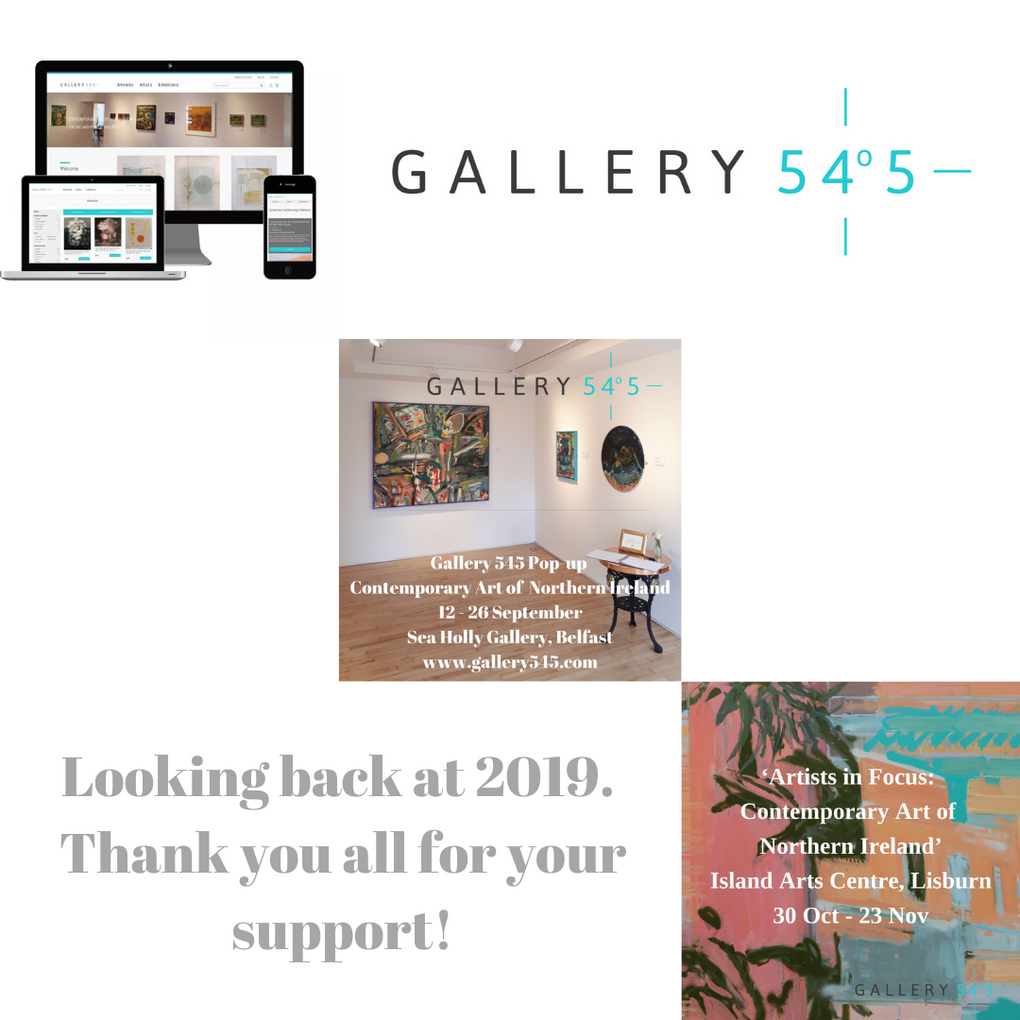 Looking Back at 2019. What a Year!
With a new year comes new beginnings… and what a whirlwind year 2019 was for Gallery 545! As we enter the closing days of 2019, we seek to look back and review what an incredible year it has been for Gallery 545. We put a succinct focus on developing Gallery 545 as a brand while continuing to work with artists and organisations the gallery collaborated in the past. Across the board, we celebrate a successful year and we can't wait to share the next with you!
Building our brand identity
In 2019, we embarked on a journey to work with award-winning branding expert Dani McFerran, Creative Director of Done & Dusted Design, to create a new logo and identity for Gallery 545. As a business, we have always been passionate about celebrating and supporting artists working in Northern Ireland whilst also nurturing an ambition to have an international dimension. Our new logo brings not only visual pleasure but sentimental significance: 54 degrees North and 5 degrees West are the geographical coordinates of Belfast, our wonderful home city.  We hold this very close to our hearts as the heartland of our gallery from where we promote artists based across the region, but also to the idea of travelling, navigating – bringing art from Northern Ireland to new people, places and countries.
Taking the World Wide Web by Storm
At Gallery 545, we understand the importance of investing back into your own business. An obvious step in this journey was building a new professional and secure website. As this is such a vital part of our business, we were keen to ensure it had many advanced features similar to those of leading online international galleries. It was a pleasure to have worked with e-commerce expert Mark Kelso and his great team at Glaze Digital on this project, giving us the ability to show Gallery 545 in a digital light! This website is dedicated to showcasing a variety of affordable original works, making it easy and enjoyable to view, discover and buy art and of course to connect artists with art lovers and collectors here in Northern Ireland and beyond. 
Exploring the social media sphere
It has been our focus to effectively utilise social media to its full potential. There is a vast social media sphere out there, and Gallery 545 has been able to develop relationships with clients and artists like never before thanks to a magnificent platform that highlights the esteemed artworks we have. This has been supported by digital marketing company, Rapid Agency. Its Director James Scullion has been a vital resource in offering advice about this aspect of our business, bringing a dynamic, fresh approach to what can often be a minefield!
Gallery 545 Artists
We are incredibly lucky and privileged to represent many inspirational and accomplished artists. We continued to work with artists mainly based in Belfast while approaching new ones across the region, and now we promote twenty artists, all of them creating unique artworks thus allowing us to offer a large and diverse selection of beautiful art pieces. With artists at varying stages of their career, we are honoured to exhibit homegrown talent that continues to grow and prosper with many having their works exhibited at high profile exhibitions and venues, winning accolades and selling for private and public collections.
Exhibitions of true art
Gallery 545 has an exciting programme of solo and group exhibitions, bringing art to a number of venues to reach wider and different audiences that would not have previously been exposed to the art we bring to the table. This year we organised several shows initiating new collaborations with the Sea Holly Gallery, Culture Night Belfast and the Island Arts Centre while continuing our partnership with the Cathedral Quarter Arts Festival and Atelier Interior Design. These shows attracted many visitors and were highly praised for the exceptional quality and standard of the artworks and curatorial work. This included praise by representatives of the Arts Council of NI, Royal Ulster Academy and the National Irish Visual Arts Library, so needless to say we are humbled! You can more about them in our exhibitions page.
A sincere thank you to all the artists and art lovers who have supported Gallery 545 in 2019 - we are so incredibly excited to see you all in 2020. We'd like to wish everyone a very happy festive season and a wonderful new year!