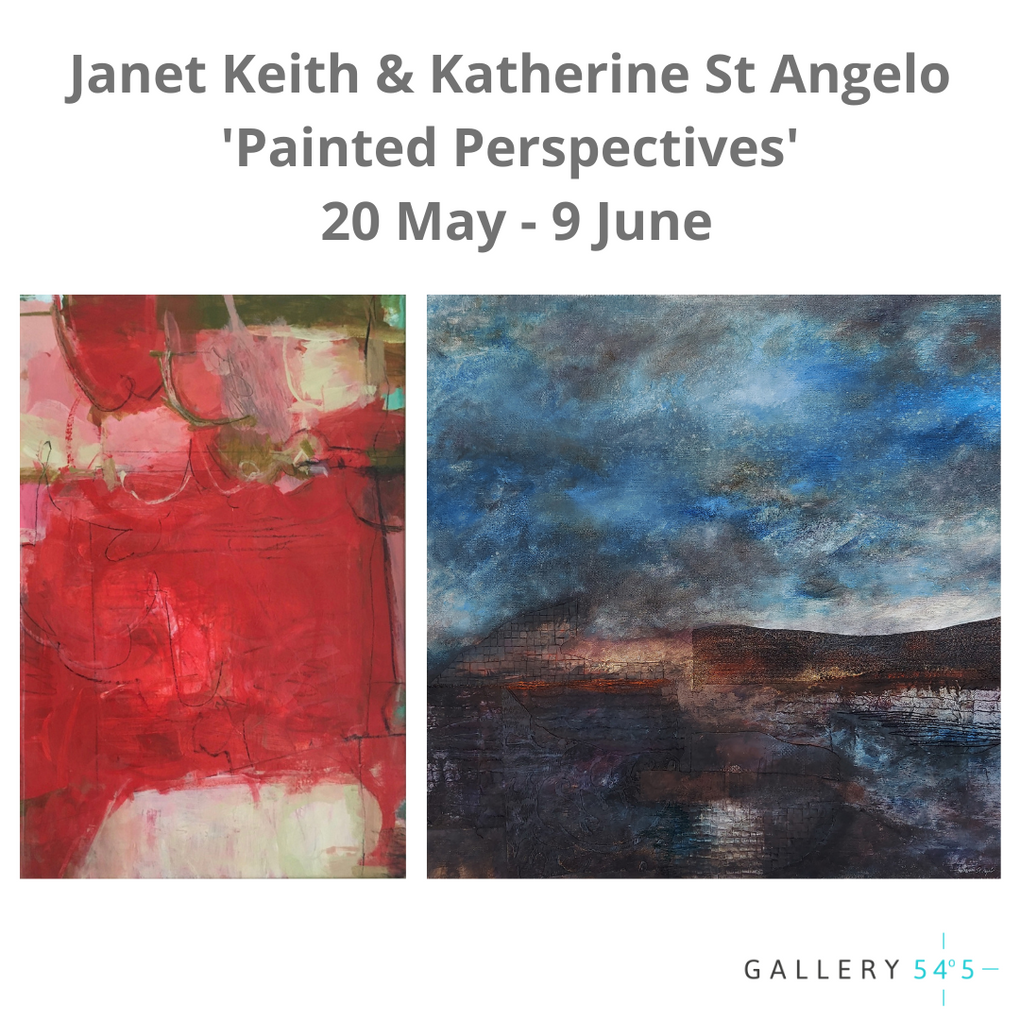 Janet Keith & Katherine St Angelo - 'Painted Perspectives'
20 May 2021 - 09 June 2021
ONLINE & at Gallery 545, Belfast
Online at gallery545.com – always open
Gallery 545 at Blick Studios, 51 Malone Road, Belfast BT9 6RY - open on
Thursdays, Fridays and Saturdays 10.30am-5.30pm
Meet the artist, Gallery 545, Belfast  – Saturday 22 May, 2-4pm
Virtual Exhibition Tour, Live on Instagram - Saturday 29 May, 10am
This exhibition presents accomplished artists Janet Keith and Katherine St Angelo and their inventive paintings inspired by landscapes and nature. Both artists are drawn to natural surroundings – their shapes, colours and lights, and maintain visual references to them. Yet, they adopt two different takes on this common source of inspiration, and using their imagination, intuition or emotions, they depict distinctive abstract or semi-abstract pieces.
Janet Keith's abstract paintings can echo natural scenes. They can remind one of the dazzling colours and the joyful rebirth of nature during spring and summer or of the cooler hues and peace of the colder seasons. Dynamic compositions alternate with calmer ones which seem to mirror the movements or stillness of different places. However, these visual references to nature are not explicit or intentional. Above all her works capture her blend of intuitive and structured way of making art, preoccupied with creating balanced, harmonious and vibrant compositions and not with realistic representations.
Katherine St Angelo's semi-abstract mixed media works bear stronger resemblance to landscapes, as they often evoke dramatic distant views of open spaces, the textures of the earth and the drifting of clouds. Visual connections to landscapes, are accompanied by emotional ones too, as the artist intends to powerfully conjure and convey moods and feelings she experienced when immersed in natural surroundings. Her intense atmospheric paintings certainly invite the viewer to recognise natural sceneries and respond to them emotionally. 
The artworks by Janet Keith and Katherine St Angelo brought together in this exhibition highlight how contemporary artists continue to look at landscapes and nature, while using their unique artistic processes and style to create original works.
This two-person exhibition is curated by Francesca Biondi, Art Director and Curator at Gallery 545 in collaboration with the artists.
Artworks can be viewed and purchased online, at virtual private viewings or in person at Gallery 545. For enquiries and private viewings contact Francesca hello@gallery545.com / +44 7960 130414.
Virtual private viewings are via video calls (WhatsApp) and take place during the exhibition opening times on Thursdays, Fridays and Saturdays between 10.30am and 5.30pm (alternative times can be arranged).
Visiting the exhibition in person - We would be delighted to welcome you at Gallery 545! No booking required. There will be measures in place because of Covid-19 to keep visitors safe. The number of people allowed at the same time in the exhibition space is limited to 6. When visiting the exhibition, please wear a face mask /covering, adhere to social distancing guidelines, and leave your contact details for tracing purposes. Any updates about Covid-19 measures will be published on this page. Unfortunately, there is no disabled access to this venue.
Images: Katherine St Angelo, Balance, 2021, acrylic paint and textiles on linen mounted on panel, 49.5 x 50 cm; Janet Keith, Hot Salsa, 2019, acrylic and ink on board, 51 x 76 cm; 
About the artists
Janet Keith lives and works between County Down and Sussex and she has extensively exhibited both in Northern Ireland and England. Her paintings are in several private collections around the world. Recently they have been bought for the public collection of the NI Civil Service and awarded at the Royal Ulster Academy Annual Exhibition. More info at https://gallery545.com/collections/janet-keith . Read an interview with the artist in our blog.
Katherine St Angelo is originally from the United States and has worked and lived in Belfast for several years. Her paintings and mixed media works have been exhibited in numerous shows in Northern Ireland. They are also held in private collections and the collections of the World Museum, Liverpool and the Crescent Arts Centre, Belfast. More info at https://gallery545.com/collections/katherine-st-angelo