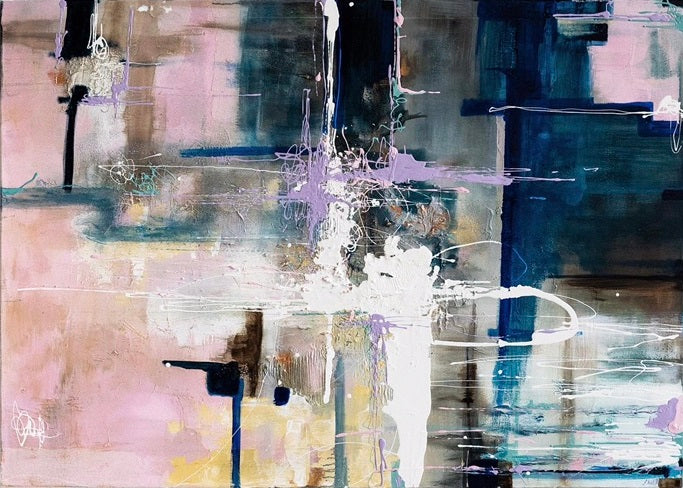 Latisha Reihill - 'Ways of Seeing' Solo Exhibition
02 October 2020 - 31 October 2020
ONLINE & at Gallery 545, Belfast
Online - always open
Open at Gallery 545, 51 Malone Road, Belfast - Thursdays, Fridays and Saturdays 11am-6pm    (no booking required)
'Ways of Seeing' features award-winning emerging artist Latisha Reihill. It presents her new unique abstract paintings, a series of carefully balanced and textured multi-colour compositions. Inspired by the qualities and histories of buildings and landscapes and the artist's response to them, they can take the viewer on a visual and emotional journey.
Reihill drew inspiration for these pieces from her ways of seeing the buildings and landscapes she was influenced by throughout her life, a personal experience where memories of their shapes and colours are tinged with feelings.
The artist's memories and her intuitive painting method guided the artistic process behind these works. The result is a series of harmonious abstract compositions, often alternating loose geometrical elements with more irregular marks, bright and warm tones with darker and colder ones, blocks of colours with layers of paints. These compositions can also convey different moods, from a euphoric joy to a sense of calmness and tranquillity.
The paintings with their variety mirror the diverse qualities of buildings and landscapes they were inspired by, and the diverse feelings they arose. They also invite viewers to engage with them both on a visual and emotional level, to find their own ways of seeing them.
'Ways of Seeing' is curated by Francesca Biondi and Latisha Reihill. They will both be at the opening to welcome their guests.
All works are available to view and purchase from Gallery 545, online or at the exhibition.
Image: Tilted, 2020, acrylic paint and other media on canvas, 140 x 100 cm.
'Ways of Seeing' is a very special event for Gallery 545. This is our first exhibition at our new premises in South Belfast, and we would like to thank Blick Studios for providing a beautiful space for it. The show is also Latisha Reihill's first solo exhibition and we feel privileged and honoured to support this successful emerging artist. Francesca Biondi, Art Director, Gallery 545.
More about Latisha Reihill on the artist's page.
THANK YOU!
Thank you so much to all those who visited this exhibition so far. The feedback has been fantastic! Here are just a couple of the many praising comments left here at the gallery. You can now leave your comments online too.
Really enjoyed your exhibition Latisha – textures, colours, composition – beautiful and so full of energy. Thanks.  Joan Bloomer, Northern Ireland Collector for NIVAL (National Irish Visual Arts Library)
Amazing textures, colours composition. The way each painting can bring a story /memory and playfulness into any room they are put in is just incredible. I love how you can work with different mediums and sizes. Thank you for putting a solo exhibition during these uncertain times to bring some normality to one's life. Ria Darai
Congratulations on putting together such a beautiful exhibition. I love the contrast in dark and light colours and the meanings that can be taken from each piece. The range in colours and sizes used offer lots of opportunity to add life to many room or building styles. Cathy Campbell
Visiting the exhibition in person
This solo show is displayed at Gallery 545, Blick Studios, Belfast and it is open to the general public. As Gallery 545 would like to welcome as many people as possible to the opening, this will take place over a whole afternoon on Friday 2 October. You can book your free ticket for the opening online at Eventbrite (30-min slot). No booking is required during normal opening times.
The safety of our staff, visitors and artists is our paramount concern. We have specific safety measures in place because of Covid-19. The number of people allowed at the same time in the exhibition space is limited to 6. When visiting the exhibition, please wear a face mask /covering, adhere to social distancing guidelines, and leave your contact details for tracing purposes. Any updates about Covid-19 measures will be published on the exhibition page on our website. Unfortunately, there is no disabled access to this venue.