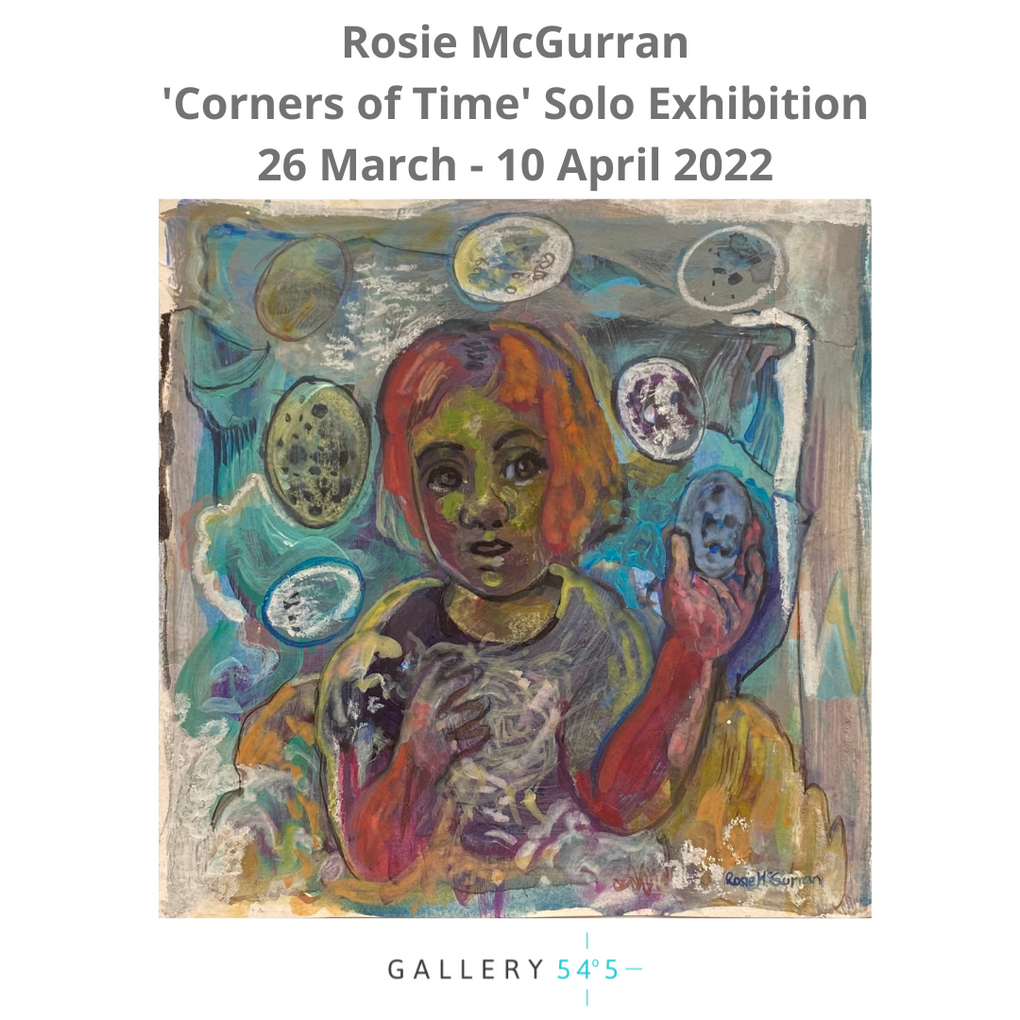 Rosie McGurran - 'Corners of Time' Solo Exhibition
26 March 2022 - 10 April 2022
Gallery 545, Belfast & ONLINE
Gallery 545 ONLINE - Always open
Gallery 545 at Blick Studios, 51 Malone Road, Belfast BT9 6RY
Open on Thursdays, Fridays, Saturdays 10.30am-5.30pm
& Sundays 1.30-5.30pm
 ARTWORKS ONLINE 
The show has now ended, but some artworks are still available on the artist's page. 
This exhibition features Rosie McGurran, Royal Ulster Academician and award-winning artist. It presents an extraordinary series of new paintings inspired by the people and places of Belfast, moments of growth and transformation in her life, and imagined characters. Suspended between reality and fantasy, these artworks tell stories of the past – of the life in the city and of the artist, but above all stories of an imaginary world.
In these paintings realistic figures and familiar places combine or alternate with characters and views of a fantastic world. Fascinating girls and women are their undisputed protagonists, depicted as individual portraits or grouped in tableaux, and often portrayed as self-absorbed, independent, or content. All the works have illustrative or theatrical qualities, prompting the viewer to read or create narratives telling the life and adventures of these captivating female figures.
With this new series, Rosie McGurran continues to create and represent imagined characters and settings, recurring across all her works over the years. Yet, she also takes a new direction, focussing her attention on Belfast, her hometown. This turn took place with the lockdown, when the artist looked at the city with fresh eyes and singled out places for their significance. In times of uncertainties, the artist also turned to the sureness and comfort of her memories, to moments of joy and epiphanies in her life, and once again to a wonderous world existing only in her imagination where she could escape. The paintings represent the culmination of this recent period of reflections, recollections, inspiration, and creativity.
The exhibition is curated by Francesca Biondi in collaboration with the artist. All the artworks will be available for sale online and at the exhibition. For further information or enquiries, contact Francesca on 07960 130414 / hello@gallery545.com.
Image - Rosie McGurran, The Juggler, 2021, acrylic and watercolour on paper, 20 x 20 cm
_______
INTERVIEW
Read an interview with Rosie McGurran about her work and this exhibition.
_______
LIVE TOUR OF THE EXHIBITION
LIVE TOUR with the artists and the curator on Instagram on Sunday 3 April - (c. 35 mins) still available on Gallery 545's Instagram page
_______
About Rosie McGurran
Rosie McGurran is a member of the Royal Ulster Academy and an award-winning artist. She has extensively exhibited nationally and internationally, and her paintings are held in numerous private, corporate and public collections across Ireland. Originally from Belfast, she now lives and works between her 'two homes', her hometown and the village of Roundstone in the West of Ireland, where she has also established an annual international residency.
Rosie McGurran is represented by Gallery 545. Find out more about this artist and view her works at https://gallery545.com/collections/rosie-mcgurran .
________
PAST EVENT
In conversation about Rosie's forthcoming solo exhibition at Gallery 545 curated by Francesca. Saturday 19 February at 10.30am (UK time) / 11.30am (Italian time) (30 min event). 
SELECTED ARTWORKS
Rosie McGurran, The Juggler, 2021, acrylic and watercolour on paper, 20 x 20 cm
Rosie McGurran, Looking for the Lost Hat, 2021, acrylic and watercolour on paper, 29.5 x 21 cm
Rosie McGurran, We All Gathered by the Shore, 2021, acrylic and watercolour on paper, 32 x 24 cm
THANK YOU so much for visiting the exhibiton and for your tremendous COMMENTS! Here are some of them
Online
Rosie's work appeals to me, enormously. The surrealism and the feminine, the women in nature taking pleasure in the elements with unfiltered child-like joy. Stunning work, unlike that of any other Irish artist. Watch this space. She's astounding. Maria McManus
Sorry to not get there in person. Wonderful paintings. Annie McCartney
At the exhibition
Wonderful and magical.
Beautiful pieces, love your choice of colour. Best of luck with everything, Rosie! + Brilliant, Francesca!
Absolutely gorgeous! Will be looking at South Belfast with much more vibrance now.
Out of Connemara and Ulster. A colourful combination.
Absolutely beautiful. Great to see images of so many sturdy women!
What a vibrant exhibition! Fantastic body of work.
Generosity in your storytelling. Love how you control the narrative but let us add our interpretations! More power to you. Great exhibition.
Wonderful work, Rosie. A visual feast.
Stunning – a new palette and new spaces.
Intense colours, compositions and narratives…what an amazing body of work.