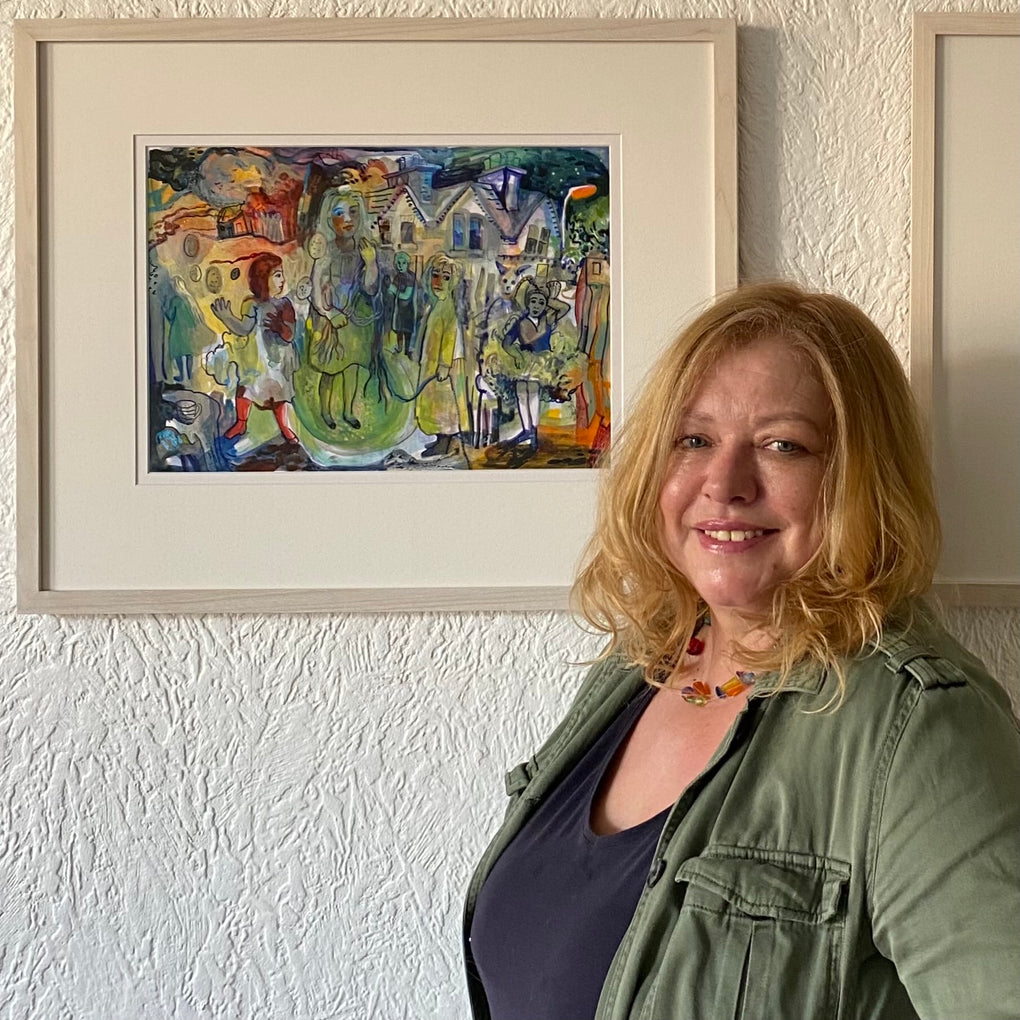 Focus on Rosie McGurran - Interview
Francesca Biondi, Art Director and Curator at Gallery 545 interviews Rosie McGurran about her work and her solo exhibition 'Corners of Time' at Gallery 545 (26 March – 10 April 2022). 
Rosie McGurran is a member of the Royal Ulster Academy and an award-winning artist. She has extensively exhibited nationally and internationally, and her paintings are held in numerous collections across Ireland. Originally from Belfast, she now lives and works between her hometown, and the village of Roundstone in the West of Ireland. Inspired by the people, places, and histories of her 'two homes' as well as fantastic characters and settings, the artist creates fascinating pieces where the real world co-exists and blends with an imaged one.
Can you introduce yourself and your practice?
I was born and grew up in Belfast, attended the School of Art here and moved to Roundstone in 2000. Roundstone and Belfast are my 'two homes'. I am based in Roundstone for most of the year, but I also spend long periods in Belfast. Both the village and the city are fundamental references in and for my work. I have used their natural and built environments as a stage for my urge to tell stories. I drew inspiration form their histories too. The figures in my paintings are mostly female, they act as representation of my life and of others, or are constructed imaginary characters. I have always worked primarily as painter, I used oil paints at the art college but found I was allergic to turpentine and switched mainly to acrylics soon after. The immediacy of acrylic paint suits my impatience and desire for results.
 Swimmers, Dog's Bay
Can you tell us more about your work? What are other important or recurring elements that you explore?
I am interested in people, history, stories, folklore, place, context and what makes us all tick as humans. I want to create artworks that are interesting and beautiful but also challenging. My concerns are about how we place ourselves in the world in the tiny speck of existence we have on our trips around the sun. Water is a huge element of the work I make, being in water or near it is of the utmost importance to me. I like looking at clouds and finding representations in them, they are part of nature putting on a show morphing into a procession of human figures, animals or faces. Being in wonderful places has also factored a strong aspect of my art practice, my eyes need to be entertained. Stunning landscapes, building singled out for their unique architecture and dreamy folktale like worlds recur in my work.
A Perfect Storm
Your colour palette is quite distinctive. Rich bright and often unrealistic colours contribute to bestow on your works a fantastic, dreamy quality. Is there a reason for choosing this palette?
I am attracted to rich colours, I live in a place where colour is abundant and ever changing with the dramatic light. I am interested in how colour makes me feel, I use it to draw the eye around a painting, and I enjoy working with opposing hues to achieve harmony.
Looking for the Lost Hat

Your paintings have strong narrative or even theatrical qualities – compelling figures, alone or grouped in tableaux are represented in intriguing situations and settings. Some of them also seem to introduce religious symbols. Did you have stories and meanings in mind when you created them? If so, do you expect viewers to 'read' them?
Sometimes I have a clear agenda in my work, a comment or message, on other occasions I am led by colour and shape, the work emerges as I reflect on it. As a child brought up spending hours in church, the influence of religious imagery has come through in my paintings. When you exhibit your art, there is a point where you have to surrender control of directing interpretation, every viewer makes their own evaluation. Looking for the Lost Hat
The Patience of Angels
Is your work influenced by other painters?
Paula Rego's work has long been an influence on me as she affirmed the validity for a female contemporary painter to make narrative figurative pieces based on personal experience. Another artist I have admired since my youth is Stanley Spencer. When I was sitting my A Levels it occurred to me that, like him I wanted to make figurative work in a non-conventional but representational style. I am also fascinated by the work of Arthur Boyd and his take on the natural world, how he can pitch up in the landscape with huge canvases and draw out his figures in semi-abstract iterations staged in reference to real depictions of place. These are among the painters that most influenced my art.
Your most recent body of work is now featured in your solo exhibition 'Corners of Time'. As the title hints, your pieces capture or suggest moments in time, new stories. What was the source of inspiration behind them?
I created this series of painting during the lockdown, in a prolonged staying in Belfast. This time has been like a residency where the artist finds themselves away from the familiar with a clean slate. I re-engaged with the city I was born in and thought about the past colliding with the present. In the midst of uncertainty, I had the sureness and comfort of memories. I made a list of really good things that had happened, specific moments of joy, learning, transformation and growth. My life in Belfast as well as working travels abroad gave me solace and renewed subject matter to decipher, stories to tell. At the same time, I continued to draw inspiration from and create imagined people and their stories.
The Juggler
The lockdown marked the start of a different approach to your work. Can you give us an insight into the artistic process leading to the production of these new paintings?
Lockdown became a paused moment to evaluate new skills and ideas. With longs un-marked days, I noticed the luxury of time on my hands which slowed down my processes and enabled me to work on several pieces at once. I created a cave like space surrounded by potential works and interesting images cut out magazines and newspapers. I looked again afresh at past pieces, and I revisited or completed them. I also undertook to make a series of daily self-portraits in pen and ink.
As the weather was great, I created an outdoor studio in my garden. From there I started observing my surroundings with delight – among them the red bricks of the houses turning amber in the sunset, deep green patches of fields, and the towering spire of St John's Church. Why shouldn't I create my own stage/world in the garden and then place characters within? I began watercolours, and then diversified into mixed media pieces using fine pens, pencil, inks and acrylic. I strongly felt that making work from life was now an inherent anchor of my practice, a strong foundation of drawing and observation on which to hang the embellished fantasy.
All My Lives

Rosie McGurran's extraordinary mixed media paintings featuring people, places and stories suspended between reality and fantasy are now showcased in her solo exhibition 'Corners of Time' at Gallery 545 until 10 April. VIEW the exhibition.
(Main image: Rosie McGurran at her solo exhibition)