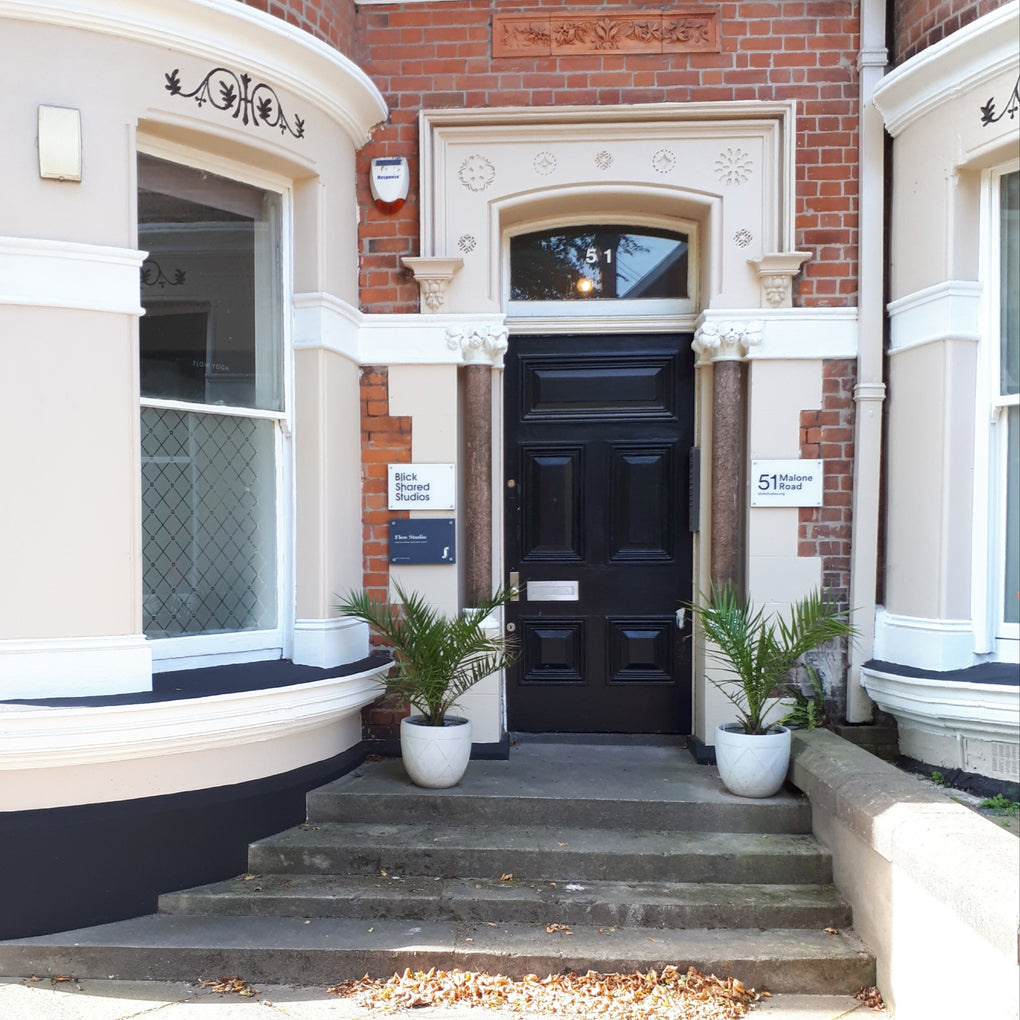 Autumn Plans Revealed!
Autumn is coming soon and Gallery 545 is getting ready at our new premises with new exciting initiatives for this season.
New premises and private viewings – We have now moved to 51 Malone Road in South Belfast. This is a beautiful historical building managed by Blick Shared Studios, with many welcoming and versatile spaces. Our office is now based here, we have just settled in and we can't wait to hang new art pieces on the walls. We have access to a spacious meeting room where we can organise private viewings. We understand that while some art lovers are happy to purchase art online, others prefer to see their favourite works in person. We are always very keen to meet our clients, show them a selection of art and have a conversation about the works and the artists….we love talking about art! Viewings are by appointment only. Contact us to book an appointment.
 Janet Keith, Olive Abstract & Hot Abstract, 2019
New solo exhibition – We are delighted to host our first exhibition at 51 Malone Road in October. It will be displayed in a beautiful Victorian room on the ground floor. The show will feature award-winning emerging artist Latisha Reihill and it will present her new series of stunning abstract paintings. These textured works have been inspired and influenced by the qualities and histories of buildings and natural landscapes and are a treat for the eyes and mind. This will be also Latisha's first solo exhibition, and we feel privileged and honoured to support this amazing artist. She is one to watch! This show will a also  be online. More info on the exhibition page.
Latisha Reihill, Tilted, 2020
Survey 'Art lovers, tell us what you think' – We are planning to further develop our website  and we would like to hear from art lovers about their experience when browsing or buying artworks from Gallery 545 online. We strive to make this experience enjoyable and your feedback will help us to improve our online gallery to better meet your needs and preferences. To show our appreciation for your time, we would like to offer a 10% discount on one off purchases to all those completing the survey (offer valid until 31 December 2020). This is now on Survey Monkey, click here to access it. Your feedback would be much appreciated!
Thank you for continuing to follow Gallery 545 this Autumn!
Francesca
Francesca Biondi
Art Director & Curator
Gallery 545