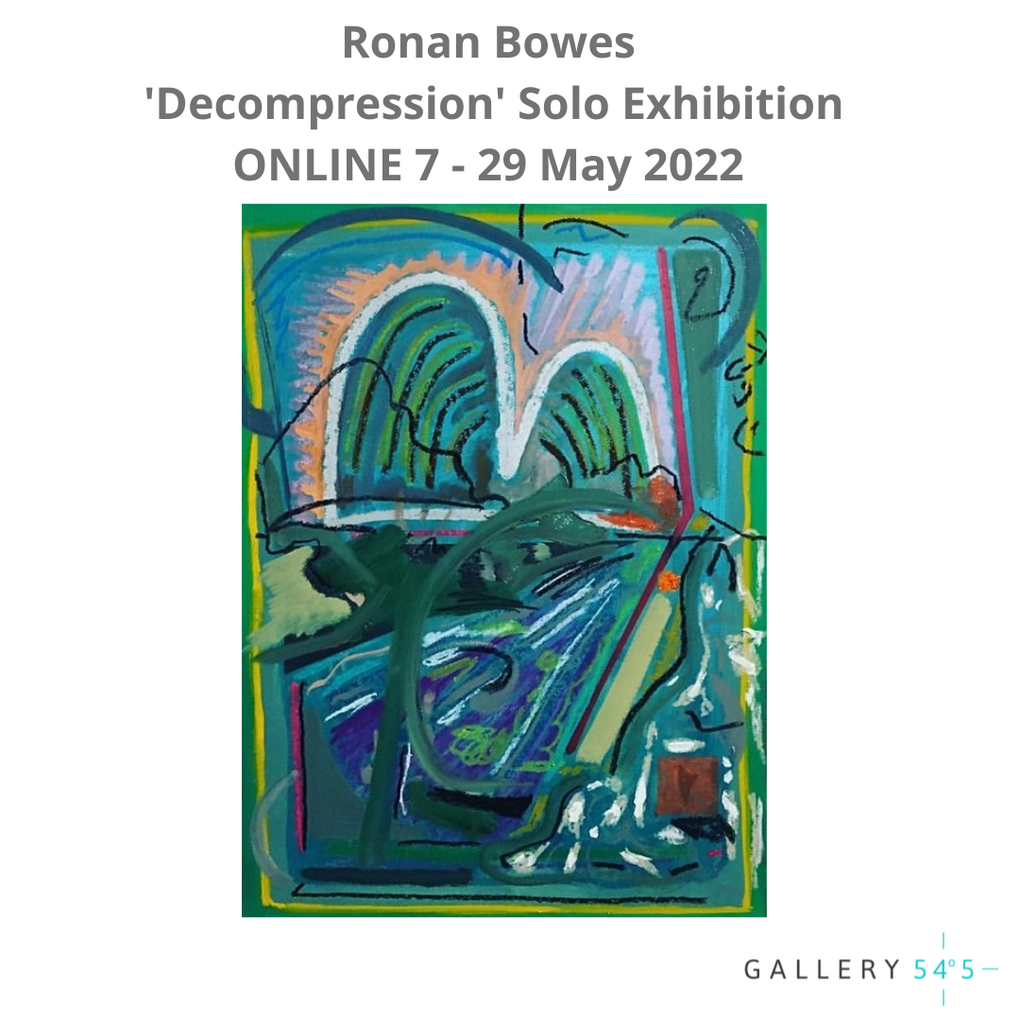 Ronan Bowes - 'Decompression' Solo Exhibition
07 May 2022 - 29 May 2022
ONLINE at gallery545.com
'Decompression: Abstract Works on Paper 2016-2022'
Gallery 545 ONLINE
Private viewings in person at Gallery 545's office, Belfast
ARTWORKS ONLINE - 

The show has now ended, but some artworks are still available on the artist's page. 
'Decompression' features award-winning artist Ronan Bowes. This special solo exhibition presents for the first time ever a retrospective of the artist's vibrant abstract paintings and intriguing mixed media works, all on paper, produced over the past six years.
Ronan's works on paper have always had a special place in his overall work. They are his most spontaneous, immediate, and intuitive art through which he 'decompresses' his creative energy and ideas. Selected and brought together in this exhibition, the artworks develop a colourful and dynamic visual journey showing the artist's extraordinary talent in exploring and making original abstract compositions over the years.
Ronan creates his abstract pieces drawing upon the modernist abstract tradition, but also contemporary street art, and finding inspiration in his own personal experiences and reflections on society. While these inform and influence his art, when creating he mostly relies on his exceptional ability to intuitively combine and carefully balance a variety of colours, marks and media. Warm and cold hues, broad gestural brushstrokes and fine lines, acrylic, oil and several other media come together on paper giving birth to unique compositions of great harmony, energy and vibrancy.
'Decompression' is curated by Francesca Biondi in collaboration with the artist. 
This exhibition is online, but artworks are also available for private viewings in person at Gallery 545's office at Blick Studios, 51 Malone Road, Belfast. You can book a viewing on Thursdays and Fridays, any time between 10am-5pm. Other viewings could be arranged on other days including weekends and other times. 
For viewings, sales or further information, contact Francesca  hello@gallery545.com or 07960 130414.
Francesca commented: I am delighted to host this special exhibition online at Gallery 545 featuring Ronan Bowes, a very talented abstract artist. Originally from Omagh, he has encountered recognition for his work mostly in New York and US where he lived and worked for several years. Since coming back to Northern Ireland in 2019, his art has started being appreciated here too. This exhibition brings his artworks to other art lovers in the region, so that they can discover and enjoy his amazing art.
Francesca Biondi, Art Director & Curator, Gallery 545
Image: Ronan Bowes, Border Jaunt, 2017, oil and oil bar on 300gsm arches paper, 76 x 56cm. 
About Ronan Bowes
Ronan Bowes is an award-winning artist. He has worked both as an artist and curator in UK and other countries and has extensively exhibited in Northern Ireland, England, Australia and USA. After several years abroad, in 2019 he relocated in his hometown Omagh in Northern Ireland.
READ HIS BLOG INTERVIEW about his work and his solo exhibition https://gallery545.com/blogs/news/focus-on-ronan-bowes-interview
VIEW HIS PROFILE and more works at Gallery 545 https://gallery545.com/collections/ronan-bowes