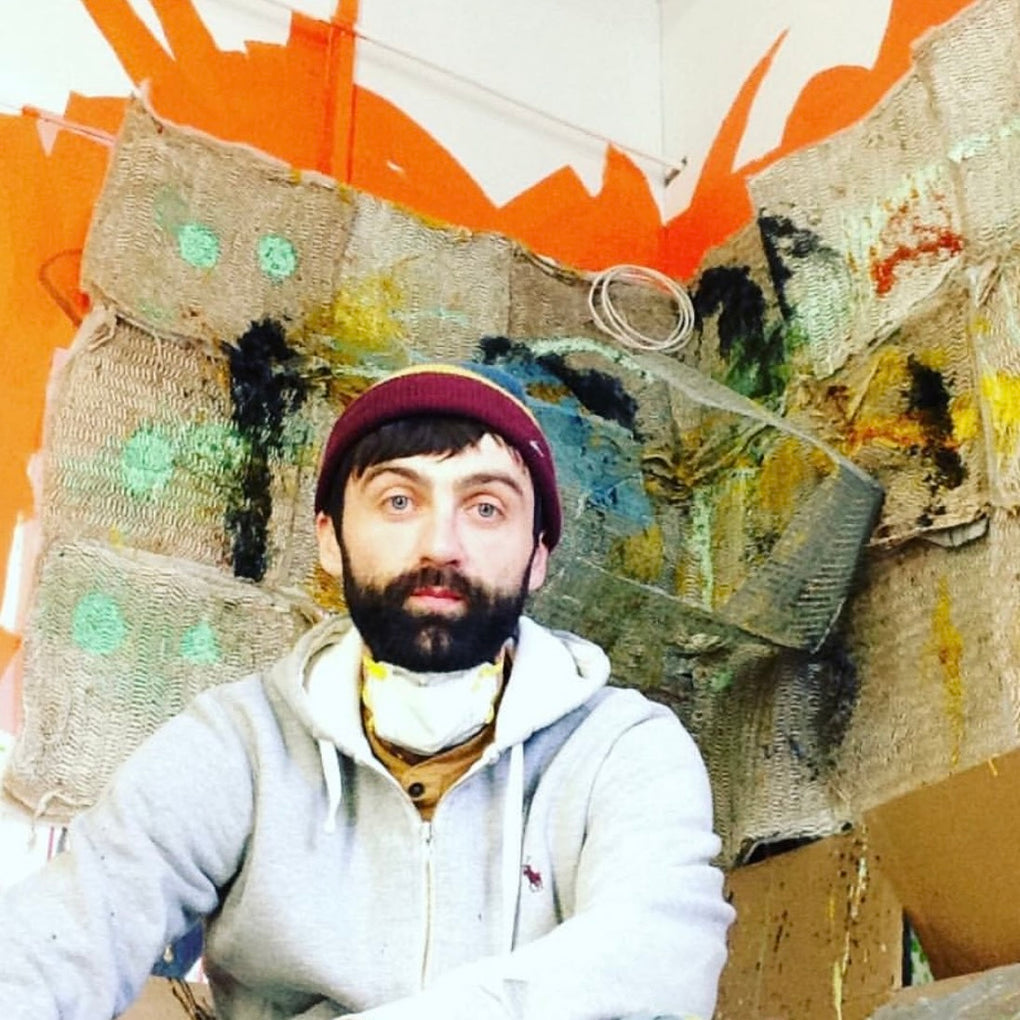 Focus on Ronan Bowes - Interview
Francesca Biondi, Art Director and Curator at Gallery 545, interviews Ronan Bowes about his work and his solo exhibition 'Decompression: Abstract Works on Paper 2016-2022' hosted online at gallery545.com (7-29 May).
Ronan Bowes is an award-winning artist. He has worked as an artist and curator in the UK and abroad and has exhibited internationally. His art has encountered recognition especially in England, Australia and New York/US where he lived for several years. Since coming back to his hometown Omagh in 2019, his talent has been appreciated across Ireland. Bowes creates original and colorful abstract paintings, works on paper and objects. He draws inspiration from his own experiences, reflections on society and readings, while placing the life, death and rebirth of studio materials at the core of his artistic process.
Can you introduce yourself and your practice?
I am a painter that experiments with a variety of materials and mediums throughout the creative process resulting in large, medium and small-scale abstract works - from paintings mainly in oil and acrylic, but also using aerosol, oil bar and watercolour, to painted assembled objects made of wood or other materials, and mixed media pieces on paper combining painting, drawing, print and collage.
I was born in Omagh, Northern Ireland where I now live and work after being away for some years. Growing up in Northern Ireland in the '90s was not 'normal', as the sectarian conflict or 'Troubles' created a sense of anxiety and stress that I never understood until later in my life. As a teenager art was my go-to where I felt comfortable expressing myself in a place where expression was repressed. Luckily for me, I had great art teachers in school who helped me to understand where I come from through art. They provided me with a foundation that developed to university level with a degree in Fine Art (John Moore's University, Liverpool), and then onto an art career both as an artist and curator across different countries.
 Ronan Bowes, Adaptation, 2021, oil, acrylic, aerosol and oil bar on canvas, 152 x 158 cm
Tell us about your work. There are different sources of inspiration and the ideas behind it.
I center my work around two modes of thought: psychologist and psychiatrist Carl Jung's Psychic Objectivity theory, which influenced American Modernist abstract painters, and the work of renowned  author and philosopher Lin Yutang's Scamp theory.  Jung's maintained that our subconscious guides creative processes, while Yutang placed importance on living in play and having scamp-like behavior. I believe that this is a healthy combination of thought that I use as a foundation to my making and a tool for dealing with my cultural memory and present.
When I am in my studio, I work on many pieces at a time and have a loose idea of a theme or topic in my head at the beginning of a series. I have created many series of artworks that have autobiographical or wider societal themes. I also try to keep my work in touch with current issues in the fields of art history and contemporary art. Art of other artists I admire has also influenced my work including Per Kirkeby, Helen O'Leary, Matisse, Jessica Stocklholder, Cy Twombly and Anselm Kiefer.
However, any theme, idea, topic or influence gradually dissipates the deeper I get into the creative process to give way to intuitive and playful material explorations and exploitation. These tend to dominate the directions I go, the qualities of the work speak to me in a way, and I respond to them instinctively. Later I take time to sit and reflect on the objects and images that are created. This time spent looking is when I begin to organise the work into a series and create titles that I feel reflect the topics or ideas of the artworks. 
Ronan Bowes, Undeclared, 2019, oil on canvas, 90.5 x 118.5 cm (98 x 126 cm with artist's frame)
You are a very versatile painter, producing a variety of works using and often bringing together different mediums and materials. Can you tell us more about how you create them?
I work in series, making or preparing all surfaces by hand unless the material is fit for use as it is.  I am experimental in my approach; when creating traditional paintings on flat 2-dimensional spaces I make sure to have excess paper, wood or other studio bric-a-brac set up on the side which end up getting used as a means to test marks, colours, compositional layouts or simply to use up any excess material that isn't making it onto the main surface intended.
The works on wood or other material over time become constructed, de-constructed and re-constructed into painted assemblages which have been recently playing along with concrete, steel and plaster. The work on paper will be set aside to dry off and later be worked into as mixed media paintings, drawings and collages. I have folders filled with small scale paper works that are a consistent part of my process. 
Ronan Bowes' studio
A selection of your abstract works on paper is featured in 'Decompression', your current solo exhibition we curated together. From our conversations I would say that your works on paper have a prominent place in your work when it comes to 'decompressing' your creative energy and ideas.
The title 'Decompression' stems from the idea of the works on paper being made, documented then packed away in folders. The fact they are being seen seems like they are breathing or 'decompressing.' 
As I mentioned before, when I paint, I often use paper among the materials to test marks, colours and layouts.  I rework small pieces later, and I use these and medium-scale pieces on paper to explore new compositions and ideas I can also apply to other works. I also use them occasionally as 'reverse studies' of larger paintings to better understand them. Works on paper have therefore a central role in experimenting with and reflecting upon content and visual elements and developing my practice.  
Deferring to the Future, 2017, oil and oil bar on paper, 56 x 76 x cm & Deferring to the Future (study), 2018 watercolour, colour pencil and ink on paper, 14 x 20.5 cm
Your works are inspired by your experiences and reflections. Are there any that influenced these works you would like to mention?
Moments, situations, events in my life inspired these works, and my work in general. I hardly ever try to capture the visual memories of these, but I am more interested in expressing and exploring my moods, feelings and emotions which have a universal nature. Considerations about society and my reading also influenced these and other pieces.
Among my works, Pandemic is a response to my experience over lockdown being sick with anxiety and on the edge all the time that I would take walks in the Sperrin mountains to help clear my head. Magnificent Idler is entitled after Lin Yutang's theory of the magnificent idler or scamp who approaches life with ease, humour and a happy-go-lucky mentality. I was working on this painting, playing with colours and some collage, when a small work on paper fell onto this piece exactly where it is now. I thought that this was a happy accident, a great trick I could use to finally complete the painting. I felt like a true scamp!
Pandemic, 2020, acrylic, oil, and oil bar on paper, 56 x 76 cm & Magnificent Idler, 2017, oil, oil bar and collage on paper, 56 x 76 cm
All the works brought together in the exhibition create a dynamic visual journey showing your unique talent in making original abstract compositions over the years. We also noticed that this journey reflects the development of your overall practice.
Over the years, my abstract artworks have maintained recurring elements, while introducing or evolving others. I have always worked with a variety of mediums and materials and on different scales. Yet, there have been changes in the visual qualities of my works on paper, which have mirrored those in other large-scale paintings. They moved from often being 'intense', dynamic pieces using a variety of bold marks and vivid colours, to alternating with 'calmer' ones, introducing more subdued colors, negative spaces or more contained movements. These changes often mirrored changes in my life – and consequently different situations, moods and emotions that inspired my work, but also different topics and ideas that influenced it.
.
Seed, 2016, acrylic, oil bar, pastel, aerosol, ink and collage on paper, 19.5 x 24.5 cm & Lob, 2020, oil and acrylic on paper, 14.5 x 21 cm
What are your future plans for your work?
I would like to see many of my works in a show, both my 2-dimensional and 3-dimensional pieces, from the smallest ones to those on a larger scale. I am a prolific artist and have a limited space to look at all of them together in my studio. So, yeah, I'll work towards manifesting that show!
Find out more about Ronan Bowes and view all his artworks at Gallery 545