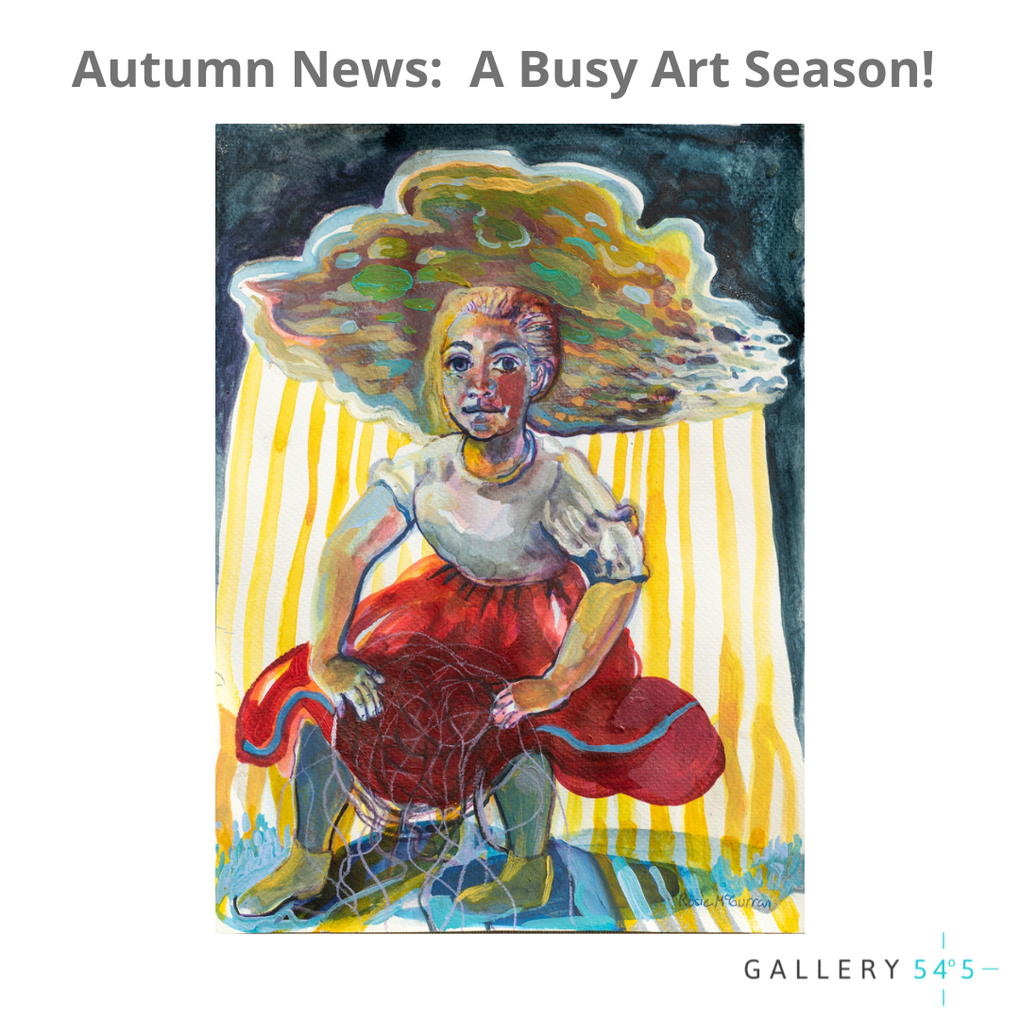 Autumn News: A Busy Art Season!
Gallery 545 is announcing a busy art season for this Autumn. We have been working with artists to bring you exciting and affordable new artworks online and at exhibitions. You can view them while relaxing in your own home or come and see them in two elegant Victorian rooms in Belfast. There will be many on display and you could find the perfect one for you!
Exhibitions double bill in Malone Road, Belfast (and online)
We are thrilled to run two exhibitions side by side, a few doors away from each other. We will present over twenty very accomplished artists based in Northern Ireland and showcasing a curated diverse selection of original artworks. You will be able to look at art on our website or at our venues. We would be delighted to welcome you at our premises at Blick Studios or at our quirky neighbour the Harrison hotel. Discover the wealth of talent in the region!
Gallery 545 Group Exhibition, 13 November – 5 December
Gallery 545, Blick Studios, 51 Malone Road, Belfast BT9 6RY
Opening reception on Saturday 13 November, 1.30-5.30pm
Artworks include stunning paintings, exquisite works on paper, unique sculptures and beautiful mixed media pieces. (Image: Lisa Ballard, Last Light of Summer, painting, 91 x 61 cm)
Featuring emerging and more established artists represented by Gallery 545 - Lisa Ballard, Ronan Bowes, Pauline Clancy, Majella Clancy, Alacoque Davey, Ray Duncan, Craig Donald, Karl Hagan, Eamonn Higgins, Trina Hobson, Ashely B Holmes, Janet Keith, Rachel Lawell, Aimee Melaugh, Sandra Maze, Rosie McGurran, Noel Murphy, Latisha Reihill, Joel Simon, Katherine St Angelo, Charlie Scott, Jennifer Trouton and Anushiya Sundaralingam. 
Artists on the Rise Pop-up, 5 November – 5 December
Gallery 545 at the Harrison Chambers of Distinction
45 Malone Road, Belfast BT9 6RX
Opening reception on Friday 5 November, 4-8pm
Artworks on display: figurative and abstract paintings with a distinctive quality. (Image: Ronan Bowes, Adaptation, painting,150 x 156 cm).
Featuring up and coming talents in Northern Ireland - Ronan Bowes, Karl Hagan, Janet Keith, Rachel Lawell, Joel Simon, Katherine St Angelo.
New artists and artworks
Gallery 545 strives to connect artists with art lovers. We feel privileged to work with many talented local artists and we are always keen to discover and collaborate with new ones. This month Joel Simon will come on board, and others will join us over the next few weeks. Their artworks will be on our website soon. Meanwhile we have added several beautiful paintings by Ashley B Holmes, Sandra Maze and Ray Duncan. You can browse all the recently added works online using filters. 
Images: paintings, Sandra Maze, Harbour Patterns II, 50 x 40 cm; Joel Simon, Ultramarine 2,  35 x 27 cm; Ray Duncan, Untitled 2, Series 11, 50 x 40 cm; Ashley Holmes, Shade, 30 x 41 cm).
Buying art with the £100 Spend Local prepaid card
You can buy artworks online or in person at Gallery 545's office and exhibitions in Belfast. If you buy your artwork in person, and you are a resident in Northern Ireland and aged 18+, you can use your £100 Spend Local prepaid card to pay for / towards your purchase (this card is being issued by the NI Executive) https://www.nidirect.gov.uk/services/apply-high-street-scheme-spend-local-prepaid-card

We hope you'll enjoy our busy art season! 

Francesca Biondi
Art Director & Curator, Gallery 545
(Main image: Rosie McGurran, Times Does Not Know Its Own Name, 24 x 38 cm, to be displayed at Gallery 545 Group Exhibition).