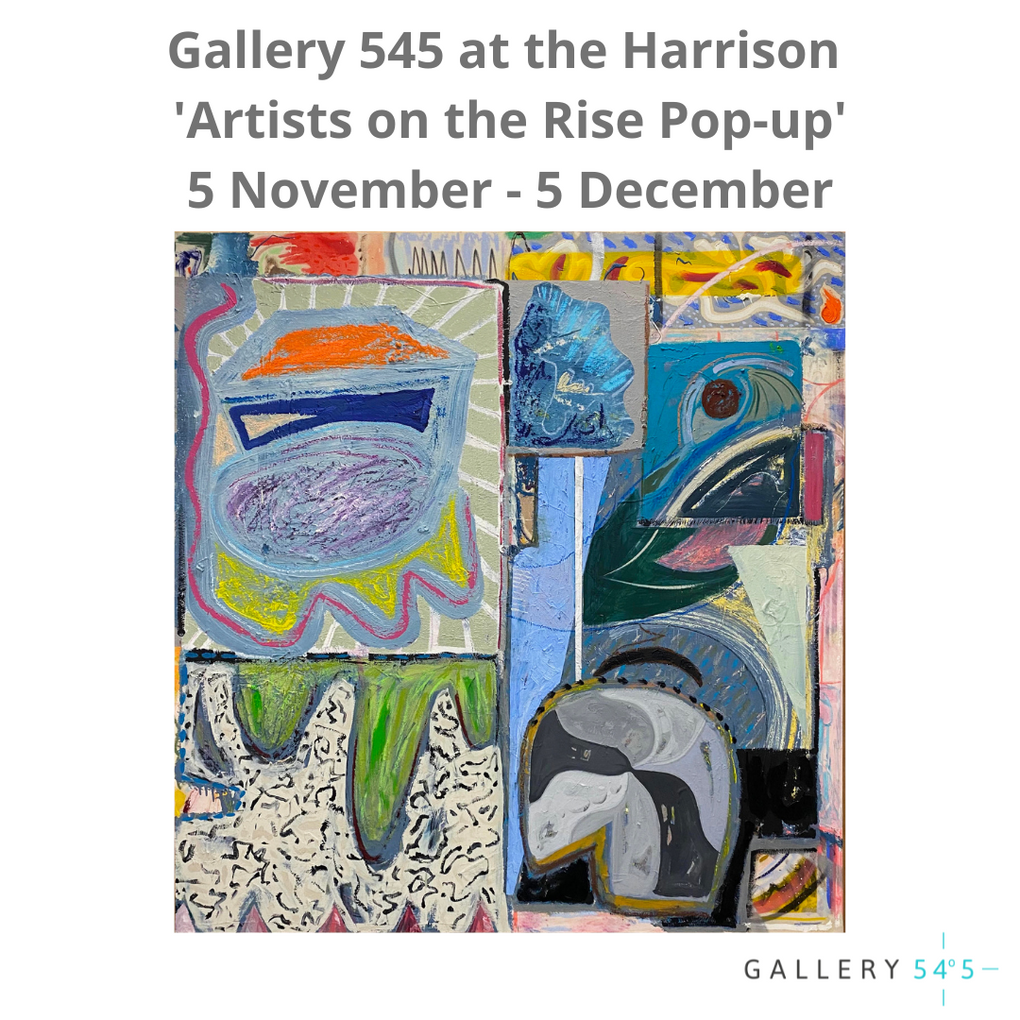 'Artists on the Rise Pop-up'
05 November 2021 - 05 December 2021
Harrison Chambers of Distinctions, Belfast
Harrison Chambers of Distinction, 45 Malone Road, Belfast BT9 6RX
Open on Thursdays, Fridays, Saturdays 10.30am-5.30pm
& Sundays 1-5.30pm (no booking required)
Opening reception Friday 5 November 4-8pm
Exhibition Virtual Tour on Instagram Sunday 7 November 12noon
Online - always open
Gallery 545 is thrilled to join forces with the Harrison Chambers of Distinction to present a group of artists on the rise based in Northern Ireland. A curated selection of their unique paintings will be on display in a beautiful room in the quirky hotel in Belfast. Viewers will have the opportunity to discover and appreciate art in this welcoming and relaxing interior setting.
'Artists on the Rise Pop-up' features six accomplished emerging painters: Ronan Bowes, Karl Hagan, Janet Keith, Rachel Lawell, Joel Simon and Katherine St Angelo. They have encountered recognition for their artistic merit in Northern Ireland and beyond, with their work being awarded, included in public collections, or exhibited at high profile venues. This exhibition brings the artists together for the first time, to showcase and spread the word about their talent.
All these painters create original works with a distinctive quality, exploring and drawing upon different themes and traditions and adopting their own style. Ronan depicts vibrant abstract paintings, colourful and harmonious compositions with bold gestural marks. Karl has made intriguing semi-figurative images of nuclear explosions, capturing at the same time their terrible destructive power and their captivating visual spectacle. Janet's works are lively and carefully balanced abstract paintings inspired by the colours, lights and shapes of nature and the rhythms of music. Katherine's pieces are intense atmospheric semi-abstract landscapes evoking the forms of natural surroundings and the emotional experience of being immersed in them. Rachel portrays charismatic self-absorbed female figures revisiting and challenging traditional representations of women in cinema and popular culture. Finally, Joel's work is inspired by films too, but also by photography, and he paints intriguing subjects trying to capture their personalities and stories.
This exhibition is a joint initiative by Francesca Biondi, Gallery 545 Art Director and Curator, and Melanie Harrison, Owner of the Harrison Chambers of Distinctions. Their collaboration has been inspired and guided by their passion for art, and their desire to promote local artists and offer clients and visitors a unique art experience.
Artworks can be purchased at Gallery 545, online or in person. For sales and enquiries, contact Francesca hello@gallery545.com / 07960 130414.
Visiting the exhibition in person – There will be measures in place because of Covid-19 to keep visitors safe subject go government regulations. 
Francesca Biondi commented: I am excited and grateful to collaborate with Melanie and the artists on this very special art event. With this pop-up I wish to support these exceptional emerging artists, who often have less opportunities to showcase their work and be appreciated at this stage of their career. I also wish to reach art lovers so that they can discover or find out more about new talents here. The Harrison is the perfect place for this event, its elegant and spacious rooms and its charming atmosphere make it an ideal space to display art and welcome visitors to see it. Melanie, a true art lover, made it possible to happen at the Harrison. 
Image: Ronan Bowes, Adaptation, 2021, oil, acrylic, aerosol paint, oil bar, on canvas, 150 x 156 cm.
ABOUT...
The Harrison Chambers of Distinction - Owner Melanie Harrison restored and transformed a landmark Victorian merchants' residence into a quirky boutique hotel. They recently won a National Geographic Award. https://www.chambersofdistinction.com
The artists
Ronan Bowes is an award-winning painter. He has extensively exhibited in Northern Ireland, England, Australia and USA, and his works are held in private collections here and abroad. He lived and worked in New York for several years, and in 2019 he relocated to his hometown Omagh. https://gallery545.com/collections/ronan-bowes
Karl Hagan is a very talented emerging artist. He was artist in residence at the Ulster University and his works are held in public collections, including the Arts Council of Northern Ireland's. https://gallery545.com/collections/karl-hagan 
Janet Keith is an award-winning emerging artist. She has extensively exhibited both in Northern Ireland and England, her paintings are in several private collections around the world, and recently they have been bought for the public collection of the NI Civil Service.  https://gallery545.com/collections/janet-keith 
Rachel Lawell is a successful emerging artist specialising in fine art painting, and she has exhibited at many high-profile galleries across Ireland (including Rua Red, Dublin). https://gallery545.com/collections/rachel-lawell 
Joel Simon is a very talented versatile artist. An award-winning animation director, in recent years he has developed his career as a painter and his work has been showcased at high profile exhibitions in Northern Ireland (including the Royal Ulster Academy and Belfast International Festival). https://gallery545.com/collections/joel-simon 
Katherine St Angelo is an accomplished and versatile artist. Her paintings and mixed media works have been exhibited in numerous shows in Northern Ireland, are held in private collections and the collections of the World Museum, Liverpool and the Crescent Arts Centre, Belfast.  https://gallery545.com/collections/katherine-st-angelo
EXHIBITIONS DOUBLE BILL in Malone Road, Belfast - 'Artists on the Rise Pop-up' is running at the same time as 'Gallery 545 Group Exhibition: Contemporary Art of Northern Ireland' from 13 November. Visit both shows just a few doors from each other!
WATCH a VIDEO about both exhibitions by NVTV - Curator Francesca Biondi, and artists Ronan Bowes, Alacoque Davey, Eamonn Higgins, Karl Hagan, Jill Morrow and Anushiya Sundaringam, talk about showcasing and promoting talented artists of Northern Ireland and creating original art for these two shows.
PHOTOS of the pop-up