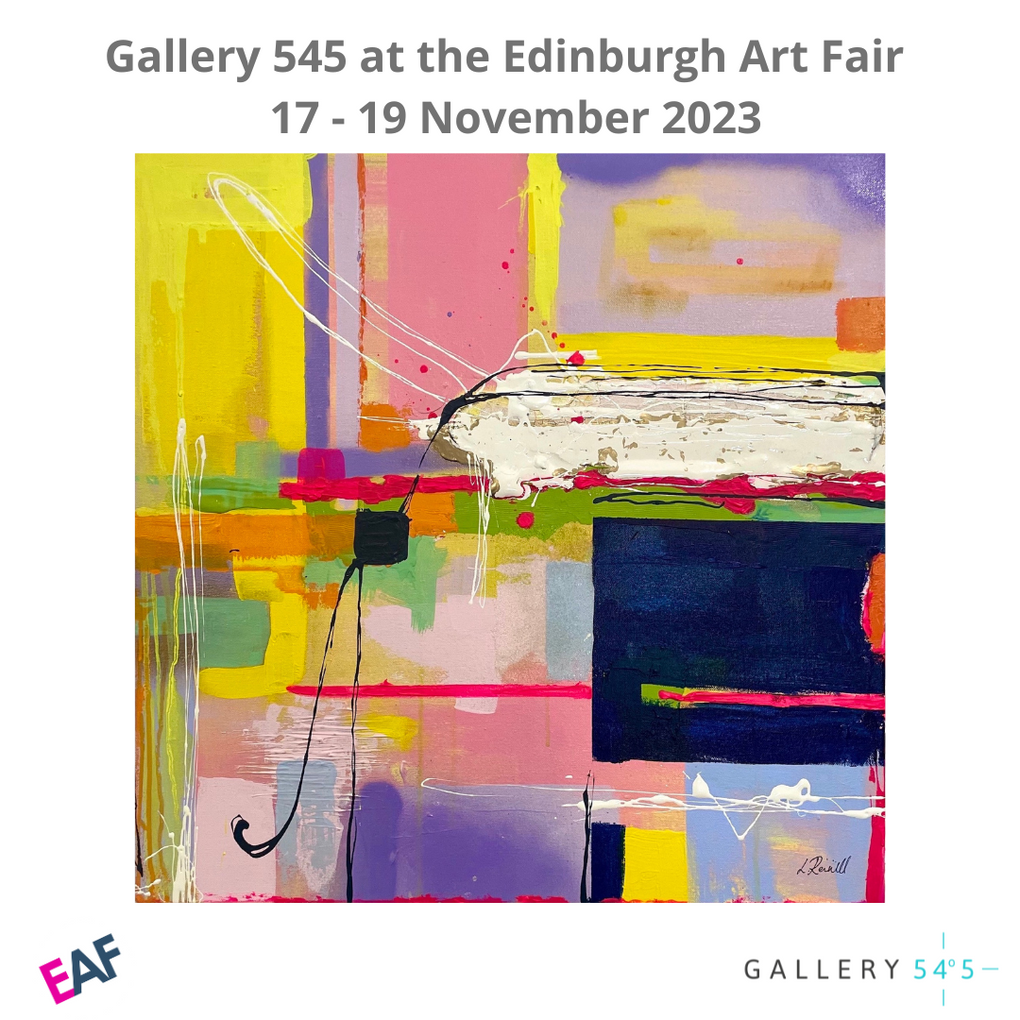 Gallery 545 at the Edinburgh Art Fair 2023
Exciting news!
Gallery 545 at the Edinburgh Art Fair
17 - 19 November 2023
O2 Academy Edinburgh
Gallery 545 at Stand B2
We have some exciting news! Gallery 545 will be exhibiting at the Edinburgh Art Fair 2023.  We will present amazing artists from Northern Ireland and their diverse original works to art lovers in Scotland. Come and visit us at our stand B2!
Edinburgh Art Fair is an international art fair showing high-quality artworks from all four corners of the globe. Francesca Biondi, Gallery 545 Art Director & Curator, visited the art fair in 2022, and absolutely enjoyed it for the great art on display and the pleasant atmosphere.
Gallery 545 is delighted to be part of the art fair this year.  This will be a very special occasion, as we will introduce accomplished artists from Northern Ireland represented by the gallery in Scotland for the first time. Francesca will be at the stand to welcome visitors and collectors, let them discover new talents from the region, and offer them advice to find art they love. Artist Latisha Reihill who studied art in Edinburgh will be back to welcome visitors and collectors too and tell them more about her works.
We have prepared a unique curated art selection – vibrant abstract paintings by award-winning artist Latisha Reihill, atmospheric acrylic and mixed media works by artist on the rise Katherine St Angelo, evocative paintings and exquisite works on paper inspired by landscapes and nature by Royal Ulster Academicians Lisa Ballard and Anushiya Sundaralingam. This selection also includes abstract textile pieces collected internationally by successful artist Patricia Kelly, and stunning bronze sculptures by renowned sculptor Eamonn Higgins. Gallery 545's art selection will also be available to view online.
EAF2023 will be held at the O2 Academy Edinburgh, New Market Road, EH14 1RJ. It will be open to the public on:
Friday 17 November, 11am-6pm
Saturday 18 November, 11am-6pm
Sunday 19 November, 11am-5pm
We have a limited number of free tickets for Gallery 545's clients and followers, and art lovers in Scotland. Each ticket admits two people to the art fair and to the guests' preview night on Thursday 16 November, 6.30pm-9.30pm. Email hello@gallery545 to request a ticket.
We hope to see you at EAF23!
Visit Gallery 545 at the Stand B2.
Main image: Latisha Reihill, Interval Box, 2023, acrylic and other media on canvas, 60 x 60 cm
EAF2023 Sneak Preview for You
Lisa Ballard, Island Thistle Sunset, oil on canvas, 90 X 70 cm
Katherine St Angelo, Liquescent, oil on canvas, 70 x 70 cm
Eamonn Higgins, Elaborate, bronze sculpture, 15 x 48 x 12 cm
Patricia Kelly,
Red Square with Rectangles
, textile collage and machine stitch
,
20 x 20 cm