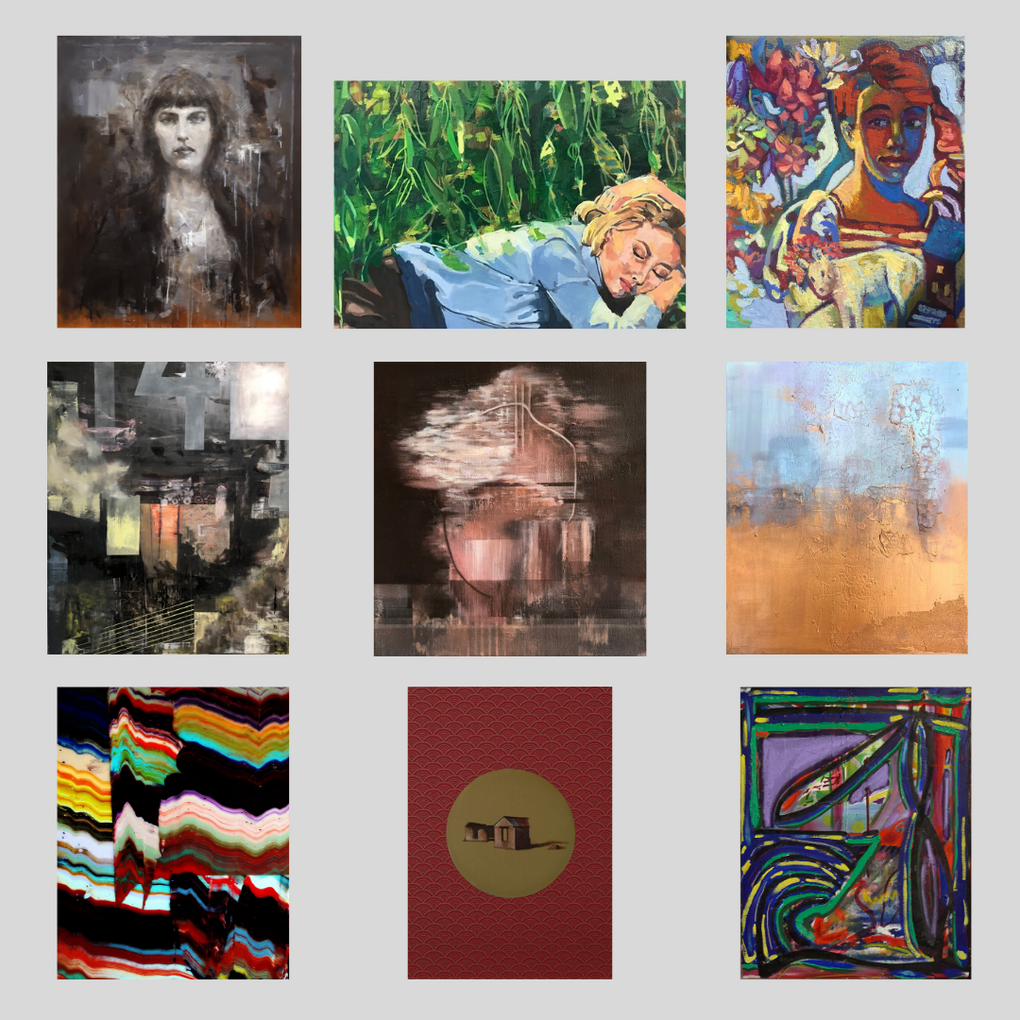 New Artists at Gallery 545
This Autumn, Gallery 545 has been delighted and privileged to start working with several accomplished artists based in Northern Ireland. In the vibrant world of contemporary art it is vital that we collaborate with artists that are both emerging and established on the art scene, who simply cannot be ignored. 
We welcomed to the gallery recent graduates Karl Hagan, Rachel Lawell, Aimee Melaugh and Latisha Reihill, mid-career artists Ronan Bowes and Natalia Black, and well renowned artists Rosie McGurran, Noel Murphy and Jennifer Trouton. Their talent is absolutely astounding and each one as different as the last. With all these artists at different stages of their career, it is important to look into each one in their own right. This blog will act as a short introduction to them all, and you will be able to read more information about them and view their artworks in their dedicated pages online.
Karl Hagan is an award-winning emerging artist. He paints pieces inspired by and reflecting upon atrocities and conflicts around the world, often placing disquieting figures and the viewers at the moment of arrival into the aftermath of a great disaster. Karl's artwork is decidedly thought-provoking with darker concepts at play.
Rachel is a successful painter who graduated both in fine art and more recently also in visual studies. With pieces inspired by female characters within films, Lawell often depicts confident and self-absorbed female figures and challenges traditional representations of women as beautiful passive objects. In 2017, Lawell was highly commended as a finalist in the NI Young Artist of the Year Competition for her take on the objectification of females in cinema.
An award-winning artist, Aimee revisits past events with her paintings which can be either abstract or figurative. She aims to take viewers on a journey into the past, and to encourage them to relate and respond to the events referred to in her work according to their own personal experiences. Based in Derry, Aimee related her recent work to local history, the history of Ireland, but also the wider world.
As an abstract painter Latisha Reihill is inspired by historical buildings and natural landscapes. With the self-proclaimed need to "push the boundaries of the conventional painting techniques and methods", she applies acrylic paints and a variety of non-traditional mediums on a canvas and plays with hues and textures to create multi-layered colourful works. Her unique paintings have been bought both for private and public collections.
Ronan Bowes is an exceptional artist who has exhibited internationally. Focusing on constructing, deconstructing and reconstructing studio material, he creates textured abstract paintings and assembled abstract objects that reflect his personal emotions, experiences and insights into the world.
Originally from Slovakia, Natalia established herself as an artist in Northern Ireland and has exhibited internationally. Natalia creates both abstract paintings and abstract fine art prints with a strong painterly quality often inspired by landscapes and music. She confessed she wants her work to be about "visual pleasure", and indeed her works are visually stunning art pieces which please the spectators.
Established figurative painter Rosie McGurran creates work that is heavily inspired by landscapes in the West of Ireland. These landscapes can become the protagonist in all their glory or can act as a backdrop for mysterious figures and stories which speak of human experiences and reflect an autobiographical side. The artistic merit of her work has been recognised both locally and internationally.
Noel Murphy is an acclaimed Belfast based artist. He has exhibited in many national and international shows, with his work receiving wide critical acclaim for its extraordinary portraits. He is well known for being commissioned to paint the Northern Ireland Assembly in Session, becoming the second artist to do so in the history of the State.
Superb figurative painter Jennifer Trouton deliberately uses the tools and materials of the past in her work to subtly express ideas around gender, class and identity within Irish history, combining an interest in the mythological, historical and personal narratives with meticulous technique. Her paintings have won numerous awards and have been exhibited in many countries.
Artworks by these artists are available at Gallery 545 to view and purchase at your leisure. If you would like to send us any queries about them, you can contact Gallery 545 at hello@gallery545.com.
We hope you enjoy our blog as much as we enjoyed giving you a brief insight into the artistic practices of new artists we are working with.